A sound marketing strategy and solid execution are vital to the success of businesses both large and small. And a big part of getting results and seeing long-term growth is having executive-level leadership that truly understands the nuts and bolts of marketing — ideally a Chief Marketing Officer (CMO).
While most larger organizations with deep pockets have the budget to hire a full-time, in-house CMO, this isn't always financially feasible for many small to mid-sized companies. But what if you could hire a CMO on a freelance basis and get serious results without spending a fortune?
That's where a Fractional CMO comes in.
What is a Fractional CMO?
They essentially have the same job description as a standard, in-house CMO: an experienced marketer who works alongside your business to develop an effective strategy and then execute it to best position your company for success. Everything a fractional CMO does revolves around growth — growing your business as a whole, as well as internal growth with company culture and promoting continuous learning and improvement.
A Fractional CMO has the exact same skill set as a full-time CMO, including the leadership to competently oversee marketing tasks and ensure goals are consistently met. But they only operate on a part-time basis. You can think of them as an independent contractor where they perform the duties of a regular CMO, on a freelance basis.
As we'll discuss later, the "fractional" nature of this position comes with several benefits, with lower cost being one of the biggest. Rather than hiring a full-time CMO, which often comes with a steep price tag, partnering with a fractional CMO gives you access to robust marketing skills for just a fraction of the price.
Some of their main services include:
Customer acquisition strategy
Customer segmentation
Developing a marketing funnel
Content strategy and development
Marketing execution
Here's a full rundown of other services you can expect.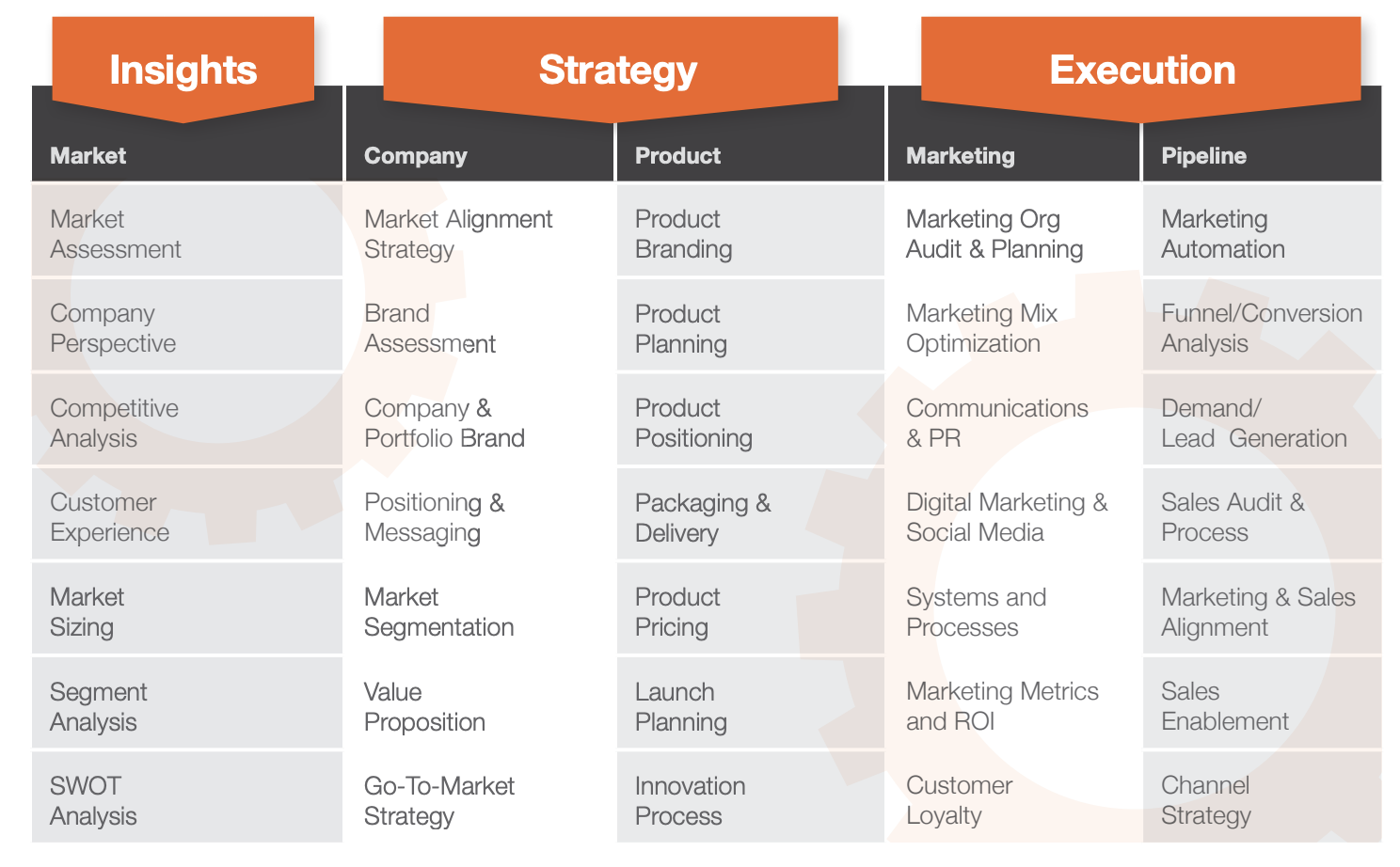 What is a Traditional Marketing Agency?
Simply put, they help businesses develop and implement marketing campaigns. A traditional marketing agency operates as a third-party contractor and promotes your company, assisting with campaigns and analyzing the results to make continual adjustments over time.
In the past, these agencies typically handled offline strategies, such as television, radio, billboards, and brochures. But nowadays, their primary focus is on digital, focusing their efforts on tactics like SEO, social media, mobile marketing, and content development.
Some of their main services include:
Customer demographic research
Creating customer personas
Developing and implementing marketing plans
Striving to increase conversions
Managing overall marketing strategies
How Does a Fractional CMO Agency Differ from a Traditional Marketing Agency?
While there is some overlap between the two — mainly in the fact that they're both third-party contractors — there are some key differences.
Perhaps the biggest is the level of attention you receive. With a traditional agency, you are assigned an "account" person who isn't a marketer and is simply a go-between to the actual folks doing the work. At a larger agency, an account person might have 20-30 accounts, which means their attention is spread out across a vast network of customers and they only meet with you once a month.
A fractional CMO is different because they're more hands on and ensure your business doesn't get lost in the shuffle. At growth.co, for example, you're paired with a highly experienced marketer (a growth partner) who is embedded in your team. This person serves a maximum of four clients and will meet with you weekly, even attending team meetings if needed. As a result, they're more closely involved with the strategy and execution of your marketing, thereby greatly increasing your odds of seeing positive results.
Another key difference pertains to your brand message. Because a traditional agency works with so many different customers and you're dealing with multiple team members, your brand message often gets distorted. In turn, you may not always get across the clear messaging you want to your audience.
With a fractional CMO, however, you're working with an individual who fully understands your business and bases their entire approach on the unique brand message you're going for. Because they're not bouncing around from project to project, they can laser focus on your company to deliver the best possible results.
In short, a fractional CMO represents an innovative approach that's built on a one-on-one type of relationship that many brands love. That's why fractional CMOs are quickly becoming a popular option with many companies.
What's a Fractional CMO Cost?
Like we touched on earlier, a fractional CMO is quite affordable when compared to an in-house CMO. By going this route, you only pay for the highest value part of the job without having to pay a full-time salary, which according to PayScale, was over $176,000 in 2021.

Also, keep in mind that you don't have to pay for benefits, insurance, and other additional costs that come along with a high-level, full-time CMO.
And while agencies are often compensated by a percentage of ad spend — a setup that incentivizes ad spending – a fractional CMO offers flexible compensation models that align with your company's specific needs. Working arrangements are often designed as part-time or quarter-time, which means you get exactly what you need without having to pay extra.
Exact rates will vary, but the current rate for most fractional CMOs is somewhere between $200-$300 per hour.
So if you work with a fractional CMO for 10-15 hours per week, you'll pay dramatically less than you would for a full-time CMO.
Click To Tweet
That's why we're seeing a growing number of businesses jumping on board with this innovative marketing solution. When you consider the value of a fractional CMO combined with the high level of dedication and expertise they bring, it's a no-brainer for many brands.
This brings us to our final point.
How Do You Find a Fractional CMO?
First, you'll want to spend some time figuring out the following:
Which core marketing tasks you want a fractional CMO to assist you with
What your specific needs are
What industry experience you need a fractional CMO to have (e.g. digital health or SaaS)
What your budget is and how much wiggle room you have
Once you have a clear idea of what you're looking for and the direction you're heading, it's time to research potential candidates. An online search should yield plenty of results where you can browse through different candidates to see who meshes best with your brand.
From there, it's just a matter of reaching out to see if a potential fractional CMO is a good fit. To ensure you find the right person, it's smart to prepare a list of key questions regarding their background, strengths, industry experience, rates, and so on. Assuming you're on the same page and they agree to your terms and conditions, you then take care of the formalities and get the relationship underway.
The Value of a Fractional CMO
In the past, companies had to take one of two extremes with their marketing. They could A) hire a full-time, in-house CMO with superior leadership and in-depth experience, but with a high price tag. Or they could B) hire a traditional marketing agency that was cheaper but didn't necessarily guarantee great results because the company was just one of many they were working with.
A fractional CMO is a relatively new concept and is somewhat of a hybrid between a full-time CMO and a marketing agency. With a fractional CMO, your brand gets executive level expertise and attention for a reasonable cost with flexibility.
To learn more about how a fractional CMO can help take your marketing to the next level, reach out to Grwth.co today.