As a business owner, you know an effective marketing strategy drives your success. Maybe you considered hiring a full-time Chief Marketing Officer (CMO) to lead your marketing efforts but found the costs beyond your budget.
Fortunately, paying a Fractional CMO salary offers the expertise of a full-time CMO at a fraction of the cost.
In this article, we'll explore the typical salary and hourly rates of fractional CMOs. That way, you can better understand how this option can serve as cost-effective and convenient for your business's marketing needs.
Keep reading to learn the benefits of hiring fractional CMOs and compare their salaries with full-timers in three U.S states. Next, you'll see how Grwth can assist you in long-term marketing plans, sales development and team leadership for your business.
So, you're curious how much a fractional CMO costs? Let's dive in!
What is the Typical Fractional CMO Salary Range?
A fractional CMO typically charges between $200 and $350 per hour for their services. However, many of them work on retainers for a certain number of hours per month.
For instance, if a fractional CMO is hired on retainer for $8,000, they commit to 40 hours per month. As a result, that works out to an annual cost of $96,000 just for one client.
Keep in mind that the overall cost will vary depending on the hourly rate and the number of designated hours. Remember, hiring a fractional CMO does not generate an ongoing expense; you can hire them at your convenience based on your specific needs.
This perfectly suits smaller businesses or those needing external marketing support without breaking the bank like a full-time CMO would.
What is a fractional CMO's hourly rate?
As we said earlier, the hourly rates for fractional CMOs typically range from $200 to $350 per hour. Yet the fractional CMO cost will depend on the rate they charge and the number of hours in their contract.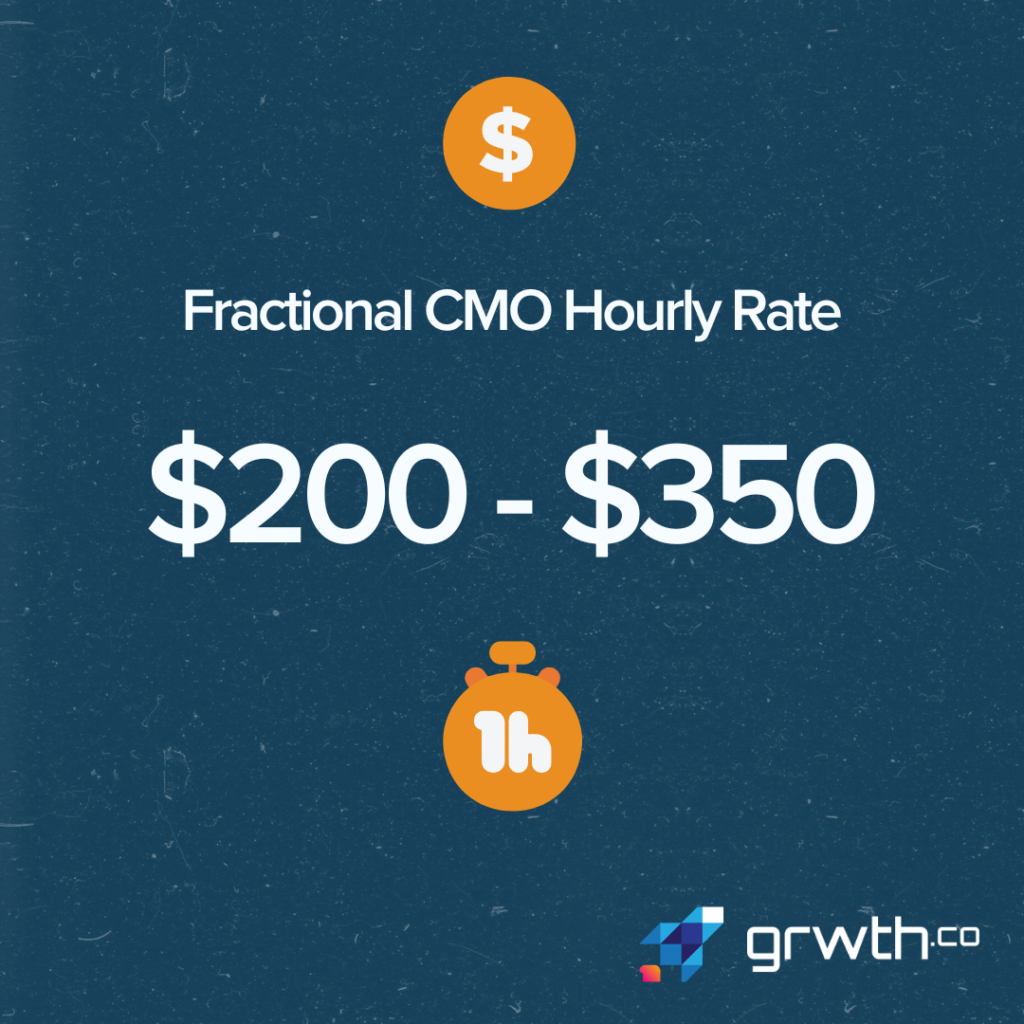 When setting a fractional CMO's hours, consider your business's specific goals and needs. For example, what if you require someone to develop an overall strategic marketing plan or lead branding initiatives? If so, then you may need fewer hours than if you want them to manage day-to-day execution and team leadership.
By carefully considering your needs and budget constraints, you can find a fractional CMO who fits well within your organization. Above all, this professional will also provide excellent value for their services at a fractional CMO hourly rate.
Fractional CMO Salary Compared to CMO
When weighing the options between a full-time and fractional marketing executive, think beyond your budget. Most importantly, factor in your business's specific goals to determine which approach will provide the greatest value and impact.
For smaller companies with dedicated marketing departments, allocate $7,000 to $9,000 per month for a fractional CMO. Subsequently, this move can save about $84,000 annually. In short, this costs you significantly less than the national average salary of $174,000 for a full-time CMO.
On the other hand, larger businesses may require a full-time CMO to dedicate more time and resources toward their efforts. Full-time salaries can range up to $200,000 or more depending on experience level and company size.
Additionally, these positions typically come with benefits packages that further increase total compensation costs by up to 25 percent.
In this case, weigh whether your business requires this level of investment in its marketing leadership. Perhaps a fractional CMO could still deliver similar results at a lower cost. Ultimately, carefully analyzing your company's unique needs will help you decide which type of marketing executive suits you.
Fractional CMO Salary in Different Locations
Considering hiring a fractional CMO for your business? Of course, a fractional CMO cost can vary depending on their geographic location.
In this discussion, we'll explore the differences in fractional CMO salaries in the states of New York, Texas and California.
New York
In the New York City area, the median pay for a part-time marketing executive stands at $162,127 per year. Additionally, benefits potentially add up to $35,603 annually.
So, in NYC, expect to pay an average fractional cmo salary of $126,524 per year. Above that comes the extra costs of possible cash bonuses, commissions and profit sharing.
Keep in mind that these figures arise from data collected from Glassdoor users. Obviously, they may vary depending on factors such as experience level and company size. With a full-time CMO salary averaging $174,000 nationally, it's important to weigh your specific business needs against your budget.
Texas
If you explore hiring a part-time marketing executive in Texas, the median pay sits at around $123,224 per year. Similar to the NYC example, additional benefits potentially total $24,321 annually. This includes an average salary of $98,903 and forms of compensation, such as cash bonuses, commissions and profit sharing.
The cost for a fractional CMO will also depend on their hourly rate and the number of hours they bill.
To get the most value from a fractional CMO in Texas, you could hire them on retainer. Consequently, you clearly outline their time and cost commitments. This way, you can have access to their expertise while keeping your budget under control.
California
When hiring a part-time marketing executive in California, begin by assessing the financial commitment involved. Likewise, consider how their expertise can significantly impact your business's success.
In California, a Fractional CMO earns $167,529 annually, beginning with an average salary of $124,382. These numbers represent the median based on salaries collected from Glassdoor's proprietary Total Pay Estimate model. The estimated additional pay of $43,147 could include cash bonuses, commissions and profit sharing.
Remember, these figures for California-based Fractional CMOs may vary depending on factors such as experience level and specific industry requirements.
How Grwth Can Help You
Discover how Grwth's expertise can elevate your marketing game and propel your business forward.
By tailoring its approach, Grwth matches you with the perfect fractional CMO. As a result, you'll receive the right skills and experience to drive your company's growth. All this comes at an affordable fractional CMO hourly rate.
Through an initial strategic deep dive, our team will gain a comprehensive understanding of your business needs. Next, we create a customized plan for you to execute. Not only does Grwth provide top-notch fractional CMO services at competitive rates, we also offer ongoing support to ensure success.
Our team commits to working alongside you every step of the way as our tactics scale up your growth.
With Grwth's guidance, you'll get the benefits of a full-time CMO without the hefty price tag. Likewise, you get more flexibility and control over your marketing budget.
So why wait? Book an introductory call with Grwth today and get paired with your perfect Fractional CMO!