Having sound marketing leadership is a must for staying ahead in today's ultra-competitive landscape. In the past, most companies had to choose between one of two extremes — either hiring a full-time, in-house marketing CMO for a steep price tag or choosing a traditional marketing agency where they often got lost in the shuffle.
A newer approach, that's rapidly gaining momentum, is hiring a fractional CMO to handle all aspects of your business's growth and marketing. Here's an overview of what this outsourced CMO does and seven key benefits and why it makes sense to hire them.
What is a Fractional CMO?
A fractional chief marketing officer (CMO) is a marketing leader who performs the same role as a traditional CMO but on a part-time basis. Rather than working full-time for a single company, a fractional CMO usually partners with 2-4 different companies and divides up their time among them. This role places an emphasis on flexibility, where typical engagements involve a fractional CMO working with a company for 10 to 20 hours per week.
These marketing experts coordinate effective, incisive marketing strategy and execution. And they're often ideal for early stage startups and smaller companies that want the expertise of a marketing leader, but can't afford or don't want to commit to a conventional in-house CMO.
Here's what a typical engagement looks like during the first 90 days: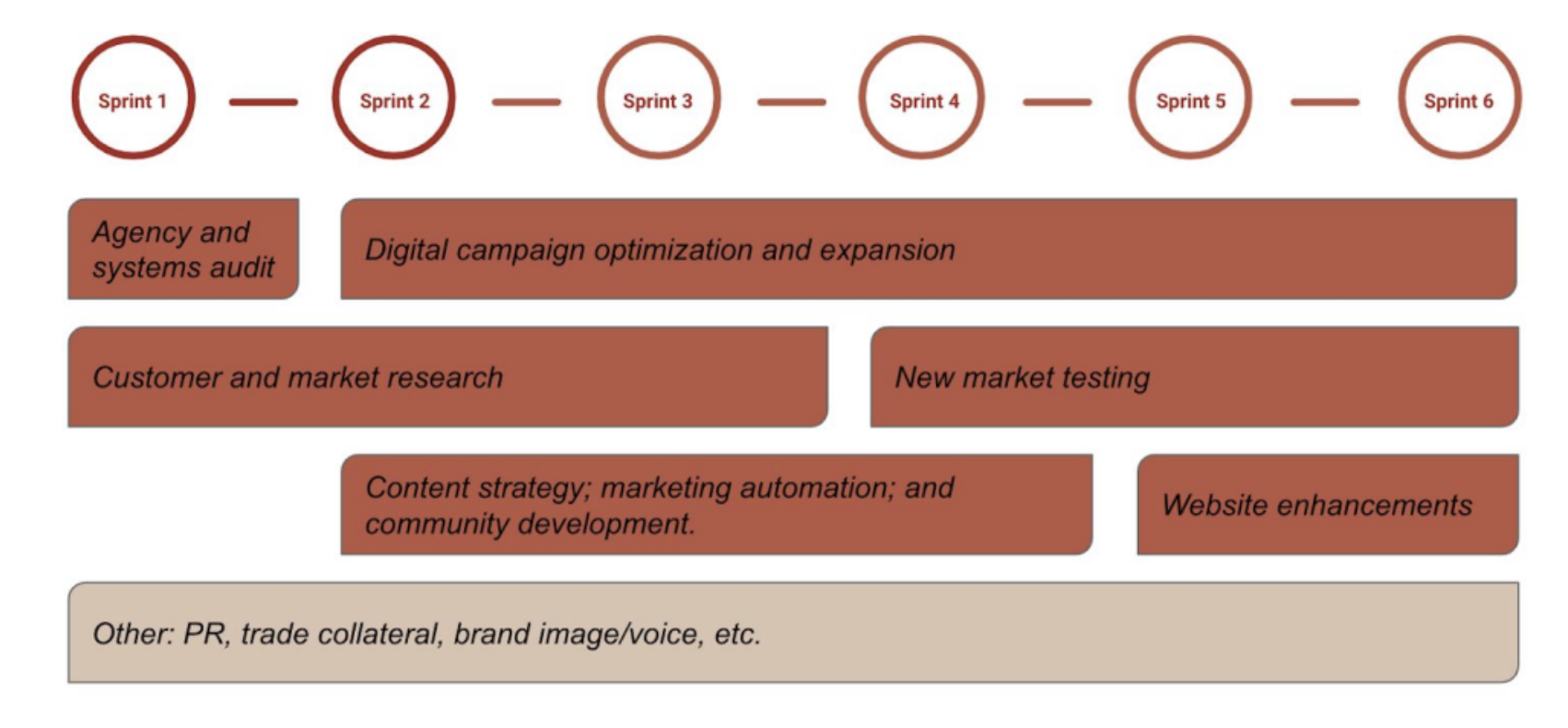 What Services Does a Fractional CMO Provide?
While the specifics can vary, here are some of the more common services you'll find from these marketing professionals:
Team auditing, recruiting, and training
Unique value proposition (UVP) development
Brand positioning
Customer analysis and segmentation
Customer persona development
Customer acquisition strategy and marketing funnel development
Lead generation
Content strategy (can include website, blog, social media, and more)
Paid and organic search engine marketing
Building and continually optimizing client's digital presence
Data generation and analysis to guide future decision-making
As you can see, their services run the gamut, and they work closely with each brand to ensure they deliver the personalized services needed to thrive within a particular industry.
Why a Fractional CMO is a Great Choice
Now that we have a basic idea of what this marketing professional is and the types of services they provide, let's take a deep dive of the key benefits of partnering with a fractional CMO and why they're a better choice than a standard marketing agency or a traditional CMO.
1. Executive-Level Marketing Leadership
For starters, you get superb leadership on the same level as you'd get with a full-time, in-house CMO. Unlike marketing agencies that are often a jack of all trades and may deal with dozens of different industries, a fractional CMO is a marketing specialist, often focusing on just a few key industries. They understand the nuts and bolts of running a high-performance marketing campaign and how to systematize the process for optimal efficiency and maximum growth.
So if you're looking for someone with senior leadership who understands the formula behind growing your business while minimizing costs and risk, this type of partnership is definitely worth considering.
2. In-Depth Knowledge
In terms of experience and knowledge, a fractional CMO is second to none. You get the exact same skill set as you would with a regular full-time CMO and have someone on board that knows how to get things done and implement winning strategies, while following best practices.
By assessing the unique industry you're in, an outsourced CMO will determine which direction to take based on what will yield the optimal results. They also understand the sequence in which tasks must be completed to expedite growth and get the maximum ROI. In other words, you're not dealing with someone who's simply taking a "spray and pray" approach, but rather a seasoned expert who knows how to get real results. All the while, they continuously create an internal growth culture of continuous learning and improvement.
3. Strategy and Execution
One of the most important parts of getting a new marketing campaign successfully off the ground is having the right combination of strategy and execution. For companies at an early stage, you need to have the right game plan focusing on the critical tasks in the correct order and then seamlessly execute those tasks over time. Otherwise, you're basically just engaging in "busy work" and are unlikely to see anything tangible.
A big part of why many brands — especially new ones — find fractional CMOs so appealing is the mix of strategy and execution they bring to the table. By following the right sequence of steps based on sound strategy and tapping into their wealth of experience, this naturally puts you in a position to establish your brand and generate a consistent stream of targeted leads.
4. One-on-One Engagement
A common complaint companies have with traditional marketing agencies is that they don't get enough one-on-one attention. When working with an agency, you're given an "account" person who isn't a marketer and is merely a go-between to the actual experts doing the work. On top of that, the average agency accounts person has up to 30 accounts and only meets with you once a month. So it's easy to get lost in the shuffle and for your brand message to get distorted.
With a fractional CMO, however, you're assigned a dedicated expert who is embedded in your team and serves a maximum of four accounts.
Click To Tweet
They're intrinsically involved in all stages of your marketing and provide you with the one-on-one engagement it often requires to see real results. At grwth.co, we'll meet with you weekly and will even attend team meetings if you'd like to ensure we're always on the same page.
5. Continual Campaign Refinement
As we mentioned before, generating and analyzing data is a big part of the fractional CMO job description. They're constantly leveraging data to identify patterns, trends, and opportunities, ensuring they always have a finger on the pulse of your campaign. They may, for example, look at KPIs like ROI, cost-per-conversion, traffic sources, and social engagement.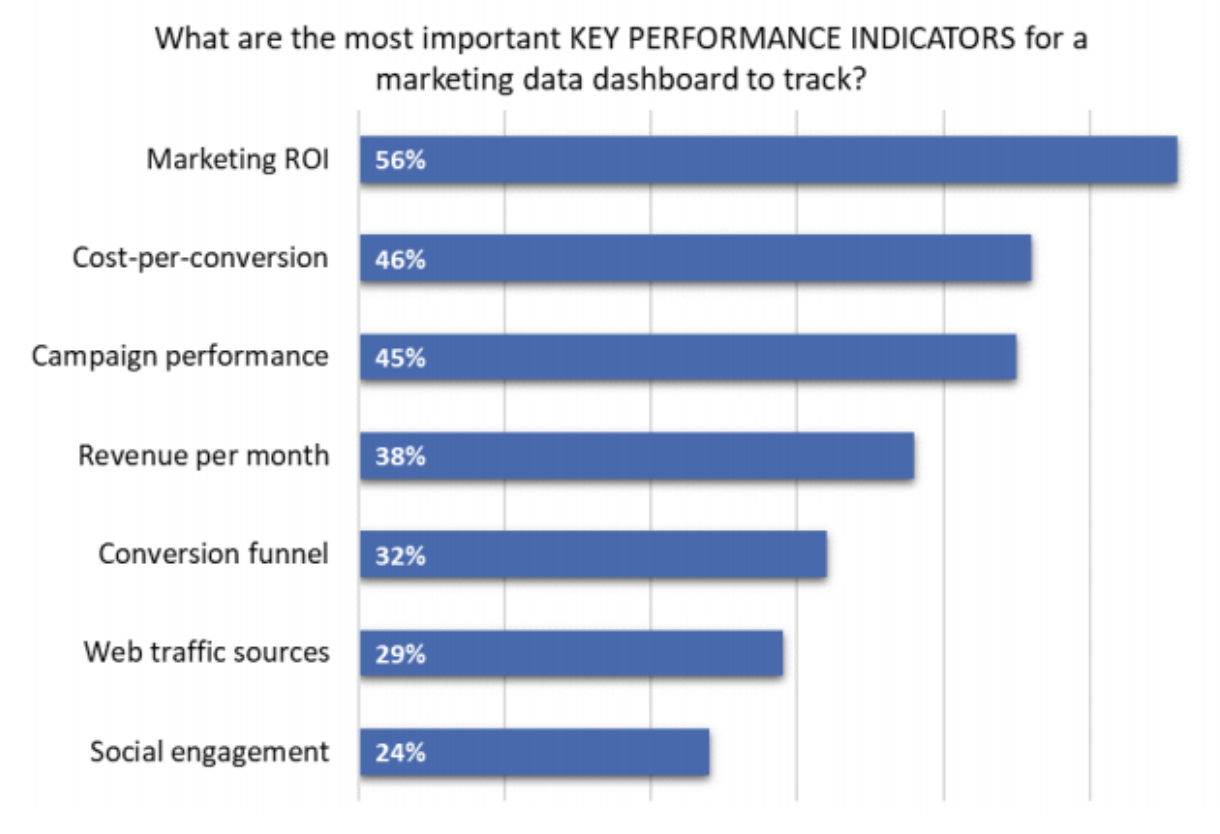 In turn, they're able to spot strengths and weaknesses, allowing them to make continual refinements to get the absolute most out of your marketing campaign.
6. Total Flexibility
Again, unlike a full-time, in-house CMO, a fractional CMO is extremely flexible. "Depending on your needs, you may work with your fractional CMO 10,15, 20 hours a week or more," explains Cathy Foster of Lift Marketing Consulting. "Then another company or two will use the remaining fraction(s) of the CMOs weekly hours." This makes it the perfect arrangement for early stage companies whose needs vary and who may not want to get locked into a long-term contract.
7. Affordable Pricing Model
Finally, there's the inherent affordability that comes with a fractional CMO. As of late 2021, the average annual salary for a CMO was over $176,000, not including benefits, insurance, and other perks.

Therefore, the steep price tag is simply out of range of many newer companies. But with a fractional CMO, you only pay for the exact services you need without all the extras, making it a far more financially feasible option.
Making the Move to a Fractional CMO
If you're looking for the senior leadership and high level knowledge of a regular CMO but don't have the budget for a full-time salary and also want maximum flexibility, an outsourced CMO is an option to seriously consider. It's essentially a CMO-as-a-Service model that offers the best of both worlds and is especially well suited for startups in the growth and scaling phase.
Want to learn more about fractional CMOs and the services they offer? Reach out to grwth.co today. We're a new type of growth partner that can provide the dedicated leadership you need to take your business to the next level.