Strategy + execution = growth.
It's a simple formula, but it's hard to stress enough just how integral it is to creating a winning marketing campaign. Without the right strategy in place, execution is pointless and simply creates busy work without any real results. And, of course, without proper execution, even the most well-crafted strategy will likely fall flat.
It's important for companies at all stages, but it's absolutely essential for early stage startups. To ensure you get started out on the right foot and lay the foundation for success, we've developed a step-by-step startup marketing strategy game plan — one that's practical and actionable — to follow during your first year. Let's jump right in.
1. Set Crystal Clear Goals for Your Startup Marketing Strategy
Ambiguity is the kiss of death for a marketing plan. You need to have a definitive purpose and fully flesh out your vision during the make-or-break first year. So, the first step to take before doing anything else is to set SMART goals, which are:
Specific
Measurable
Attainable
Relevant
Time-Bound
HubSpot has an in-depth guide on setting SMART goals which is very helpful, but here are a few examples to get you started:
Create one blog post per week by the end of Q1
Drive at least 1,000 unique visitors to our website each month by the end of Q2
Gain at least 10,000 Instagram followers by the end of the year
2. Pinpoint Your Target Audience
The next step is figuring out exactly who you're trying to reach with your startup marketing. Without a full understanding of who you're selling to, the marketing plan process is going to be fuzzy, and like we said earlier, will lead to busy work with minimal results.
That's why you need to define your target audience, which largely boils down to determining their core demographics, including age, gender, location, and income level for B2Cs and industry, job position, and key pain points for B2Bs. To take it one step further, you may also want to define psychographics, which are the personal characteristics of a target consumer, such as their interests, values, attitude, and philosophy.
Once this has been crystallized, it will shape the rest of your startup marketing strategy.
3. Articulate Your Brand Identity
A big part of getting your marketing strategy firing on all cylinders is creating a clear brand identity right from the start. Just like with setting clear goals and knowing your target audience, this is a necessary precursor to doing any actual advertising because without it, your campaign is likely to miss its mark.
While there are many potential factors that contribute to brand identity, you can boil it down to eight essential elements, which are outlined in this graphic from Spellbrand.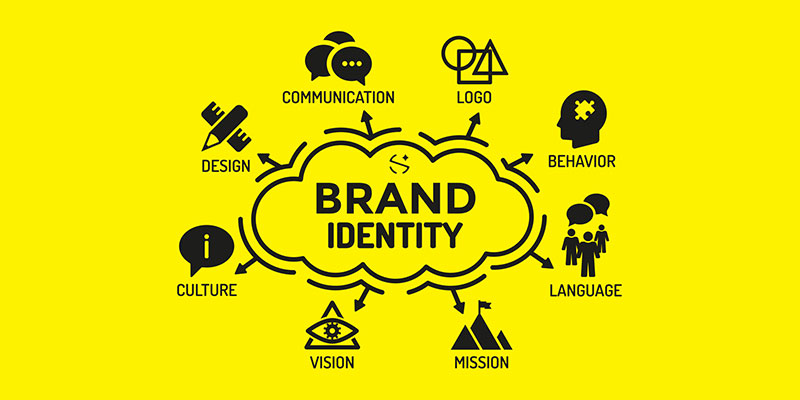 We suggest going over each of these elements and figuring out what best fits your startup. This will likely require some refinement over time, but you should have a good sense of what you're going for, as this will shape your basic brand identity during the initial stages.
4. Develop a Winning UVP
A unique value proposition (UVP) is a concise statement about what differentiates your brand from the competition and why a customer should choose you over someone else. At Grwth, for example, our UVP is "a new type of growth partner," which lets prospects know we offer unique, innovative marketing services to help them grow their brand.
The key is to, in just a few words, encapsulate why a prospect would want to buy from you. This is important because you'll use your UVP over and over again in your marketing campaign in places like the headline of your homepage, on landing pages, and on your social media channels.
5. Determine Your Budget
The next step is to decide exactly how much money you want to allocate to marketing. For more established companies, it's recommended to spend between 6-12% of gross revenue. But for new companies, it's 12-20%.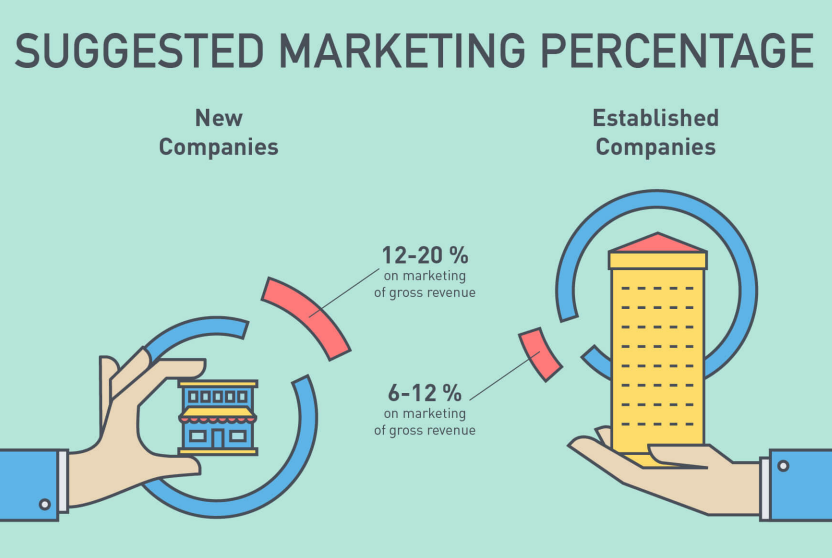 Why is it so much higher for startups? Because you're still trying to find your footing and need to:
Gain initial exposure
Build up your brand equity
Drive a high volume of qualified leads to your website
Convert the highest possible percentage of leads into customers
And it takes firepower to do that. Once you've established yourself and have a steady stream of leads and customers coming in, you may be able to lower your marketing spend. But devoting 12-20% to marketing during the first year is usually a smart move.
Devoting 12-20% to marketing during the first year is usually a smart move.
Click To Tweet
6. Build a Lead Gen System
Up until this point, the steps we've outlined are geared around the planning stages of marketing for startups. For the rest of this guide, we'll focus on the nuts and bolts of turning that strategy into a well-oiled machine.
The next step is building a lead generation system. We find the easiest way to go about that is to create a chart like this example from HubSpot.

This is a hyper-simplistic example, and your lead gen system will likely be more complex with more channels. But this should give you a basic idea of how to approach the process.
7. Set a Timeline
We touched on this briefly earlier where your startup marketing plan goals should be time-bound. But this is something that applies across the board to all aspects of your strategy.
Ideally, you'll create a detailed timeline so you'll know:
Which tasks to prioritize
When deadlines are
Where you should be at any given time during the course of your first year
When you've gotten off track so you can take swift measures to correct the situation
You could, for example, identify what needs to be accomplished within:
The first week of launching your startup marketing campaign
The first month
After 45 days
After 60 days
After 3 months
8. Choose a Key Growth Partner
The final piece of the puzzle is finding the right partner who can assist with your startup marketing plan to ensure rapid growth and progress. One route an increasing number of startups are taking is partnering with a fractional CMO who has the same knowledge, experience, and leadership of a full-time, in-house CMO, but doesn't require the same level of commitment or big salary and benefits.
A fractional CMO's speciality is combining marketing strategy and execution for a holistic approach. Their job is to help you figure out the best plan of action and share their expertise to properly establish your brand message and quickly grow your business. Some specific services they provide include:
Customer acquisition and segmentation strategy
Competitive analysis
Brand development
Lifecycle marketing strategies
Content strategy
Data transformation to continually refine your marketing
And unlike a traditional marketing agency that often works with 20-30 clients, a fractional CMO only works with a max of four clients, which means they have the time to meet with you weekly. Grwth, for example, will even attend team meetings if you'd like to ensure you're always on the same page. So at the end of the day, you can maximize your ROI and get results quickly.
Free Extra: A Marketing Plan Template
And to streamline your startup marketing even more, here's a marketing plan template to help you navigate through the steps with ease.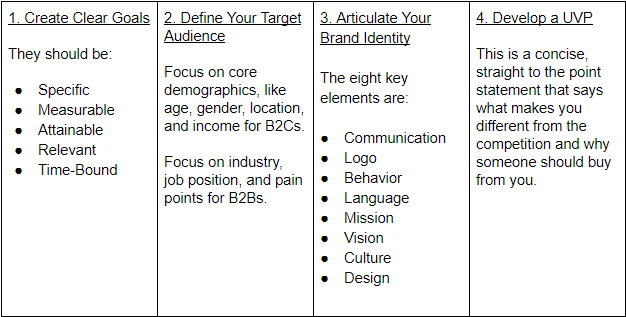 Strategy and Execution
The first days are often the hardest for new startups. As a fledgling company, getting your marketing campaign off the ground isn't easy. But with the right game plan, and by focusing on strategy and execution, you can set the right tone from the start and accelerate growth. Following these steps should help you chart your course and get you where you need to go by the end of year one.