Growth marketing (often referred to as growth hacking) has become somewhat of a buzzword as of late. While some brands may feel a little fatigued by it, the truth is that growth marketing can bring about massive results when done correctly. In fact, growth marketing strategies by nature are often the perfect fit for new startups that are looking to get things off the ground quickly and maximize their reach.
What is Growth Marketing?
The exact book definition can vary depending on who you ask. But at the end of the day, it involves using experimental, relentlessly innovative techniques to identify how to most effectively win over consumers and maximize your ROI. There's also a strong emphasis on optimization where continual iterations are made to refine the marketing funnel and outpace the competition.
Unlike traditional marketing that uses the same old techniques like email blasts or pay-per-click advertising targeting conventional keywords, growth hacking strategies are built on a philosophy of experimentation to make your budget go further. It's about more than just creating brand awareness. It's big-picture oriented, using outside-the-box techniques to generate quality leads, convert them into loyal customers, retain those customers, get referrals, and as the name implies — grow.
Given that growth hacker marketing can be such a wide umbrella, for this post I'm going to identify three specific strategies that have the most impact based on authoritative studies. I'll also include examples from real-life companies, along with actionable takeaways you can use right away.
1. Offer a Free Version of Your Product
This is actually a strategy I mentioned in an earlier post about successful B2B SaaS companies. But it's so potent, I'd be remiss not to make it a focal point here.
The concept is simple. Offer a free version of your product to get your foot in the door with a customer. Then, nurture the relationship, building rapport and trust, and nudge them toward eventually using the regular paid version. This is the ultimate way to let prospects "test drive" your product before buying it, giving them a chance to get comfortable with it, as well as your brand. Once they see the value they're getting, it's a lot easier to not only make the sale but establish long-term loyalty.
Profitwell articulates it perfectly: "If a customer is familiar with your product and what it can do for them, they are already primed to make a purchase. Giving your product away for free and upselling on additional features means you can skip right past the difficulty of making an initial sale and take advantage of the relative ease that expansion revenue brings." And given that expansion revenue costs four times less than acquisition, it's easy to see why this is one of the top growth hacks for boosting ROI.
Case in point — HubSpot. One of the most powerful techniques in their marketing arsenal is their free tools. They have them for CRM, marketing, sales, and more. Everything their customers could possibly need is available without having to pay a dime.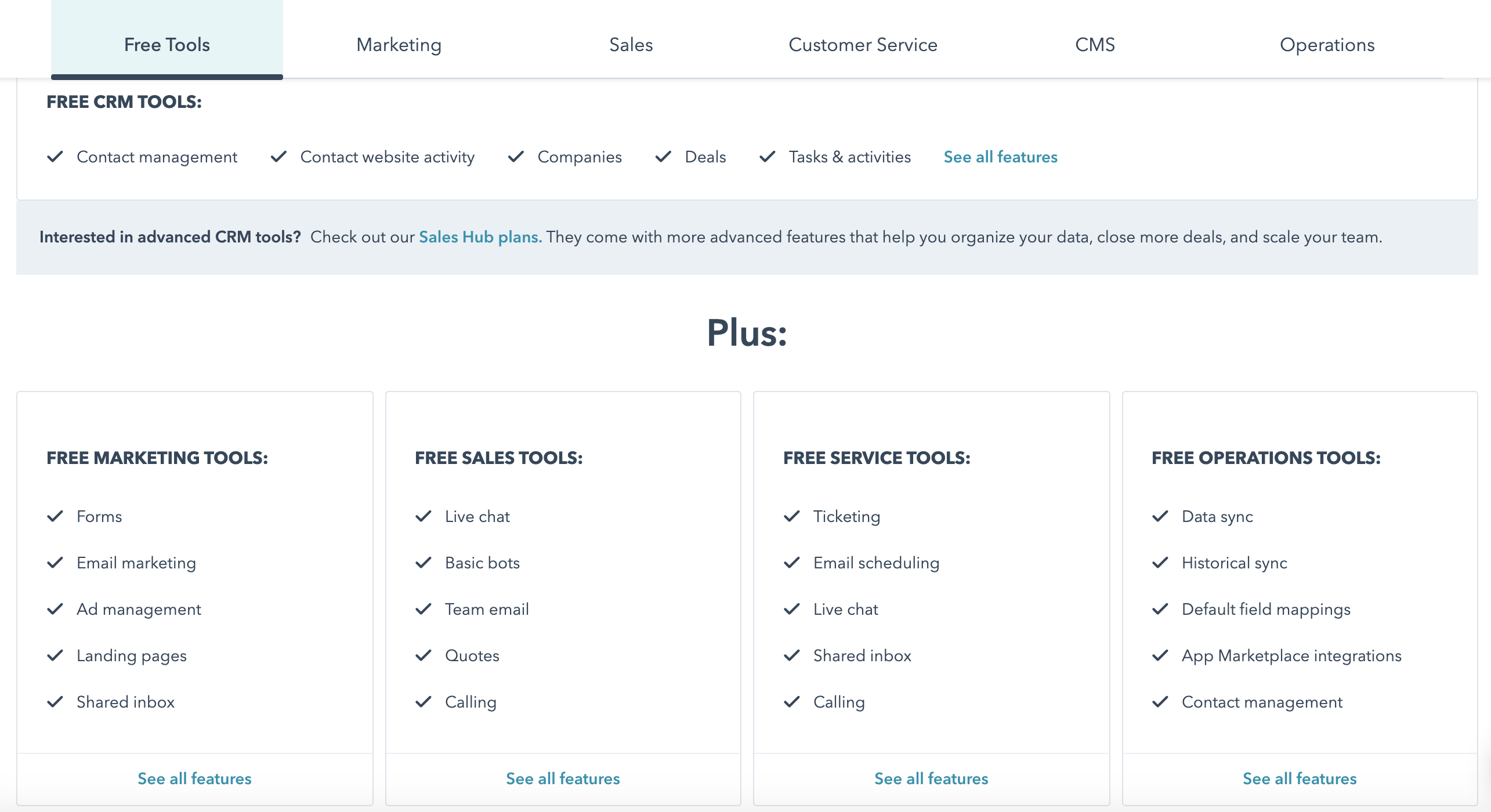 And a quick look at their revenue growth from 2014 to 2020 shows this growth hacking strategy is clearly working. HubSpot had a CAGR of 41% during that period, proving just how effective offering free products can be.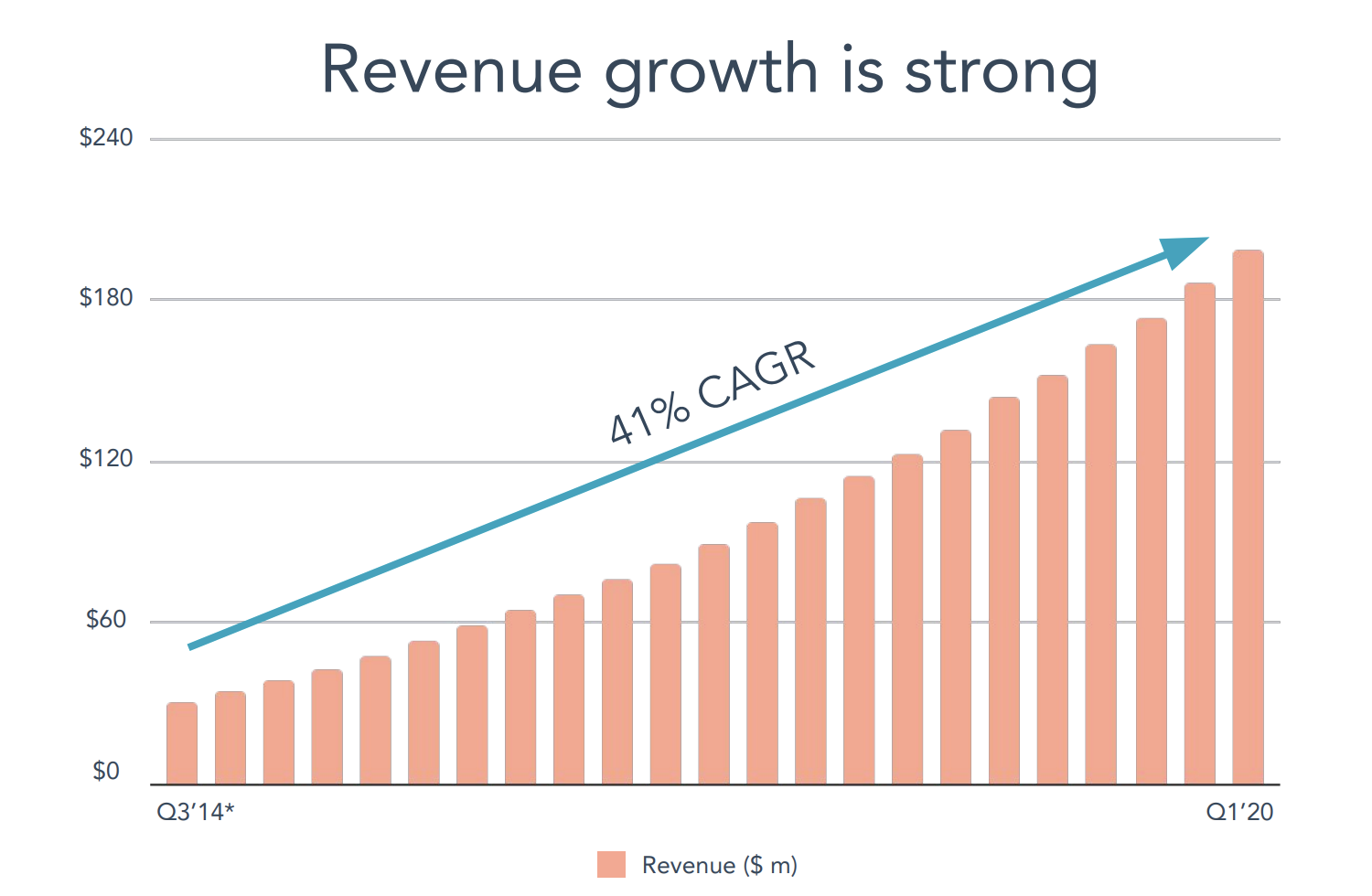 2. Use Game Changing Disruptive Marketing
Sorry to throw another buzzword at you, but disruptive marketing, when done right, is an absolute powerhouse. If you're not 100% sure what this term means, it's a technique that uses new, experimental tactics that promote innovation and challenge stale, outdated business models. At its core, disruptive marketing focuses on offering customers an amazing experience that resolves their pain points in a way that competitors have failed to do.
Naturally, this is an extremely effective way to gain initial brand exposure and checks off all the boxes of the marketing funnel. Disruptive marketing, for example:
Helps build awareness
Generate leads
Convert leads
Retain customers
Gain referrals
Maximize ROI
Build a sustainable, long-term business
What more could you possibly want? It's truly a win-win because your customers get a product or service that fully meets their needs in a way that hasn't yet existed and your business is able to ignite serious growth.
One of the best examples is eyeglasses and sunglasses company Warby Parker. They're part of a huge industry that's insanely competitive. But through disruptive marketing, they've not only managed to carve out a niche for themselves, but they've actually beat big name rivals like Ray-Ban and EssilorLuxottica. Lauren Hirsch of The New York Times reports Warby Parker's sales grew by 6% in 2020 during the peak of the pandemic, while many others dropped by double digits.
There are two main ways they've thrived with disruptive marketing. First, their entire business model was built on offering quality products at an affordable price, effectively disrupting an outdated model that made a lot of companies rich but was bad for the consumer. That alone resulted in a staggering 500% growth during their first year of business.
Second, they were the first to pioneer the model of allowing customers to take a quiz to find the perfect eyeglasses/sunglasses and try on five pairs at home. Customers simply choose the pair they want and send the other four back. Warby Parker even includes a prepaid return label.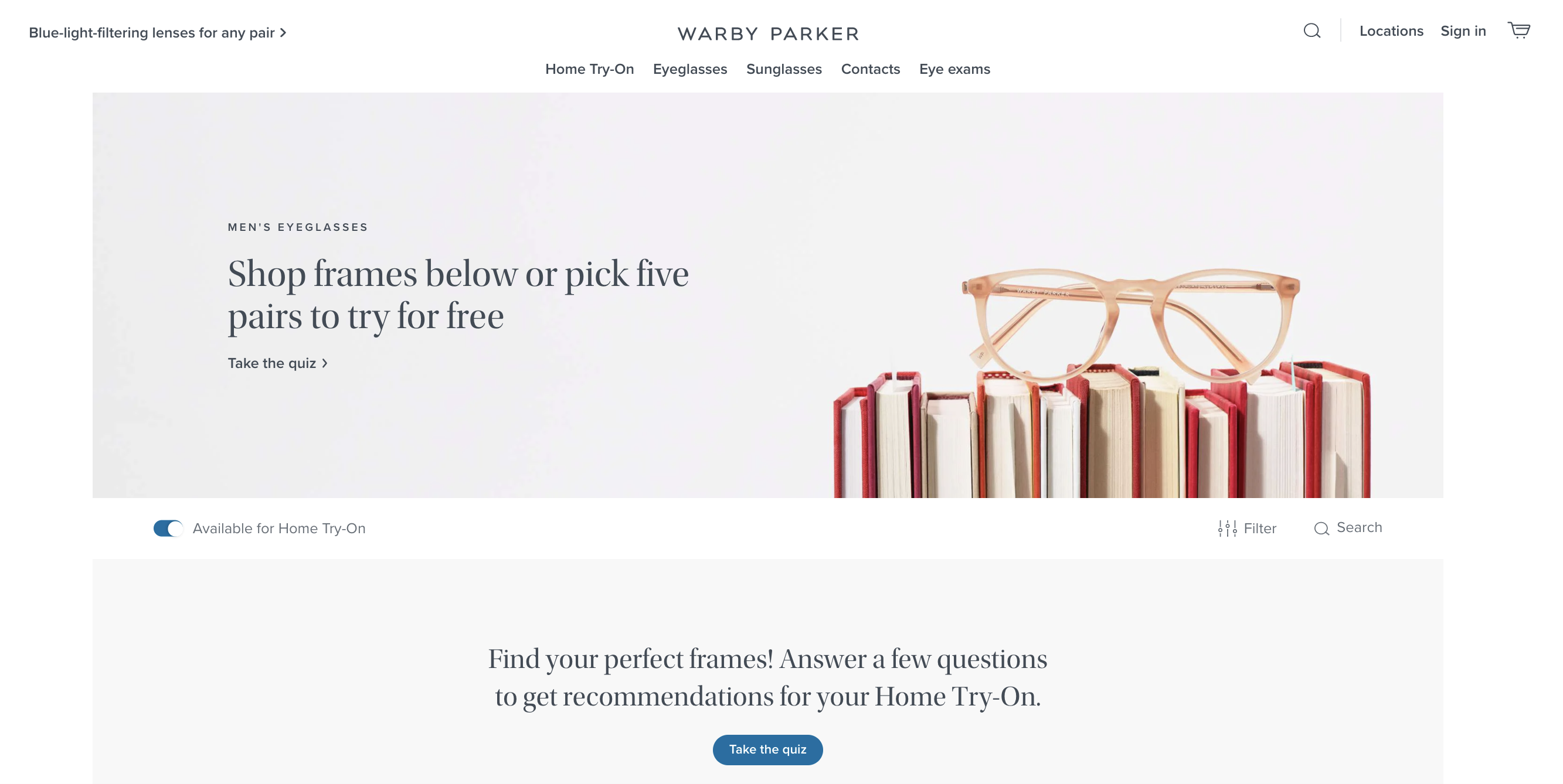 In an age of hyper-personalization, this has been a massive success and a key contributor to Warby Parker's ability to rapidly grow their brand. Rather than having to make an appointment, drive to a retail store, and meticulously peruse through rack after rack of products, consumers can conveniently find the right product without any heavy lifting. This shows the power of disruptive marketing and that if you can scratch an itch like no one else can, your customer base is there for the taking.
3. Share Audiences with a Non-Competitor
Say you're a fairly new company with a following of 25,000 people through your blog, social media, and so on. By posting content, you would have the ability to reach 25,000 people. But let's say you strike up a partnership with a non-competitor who also has a following of 25,000 people. By "sharing audiences" you could instantly double your reach and get your content in front of 50,000 people. It's simple math.
That's why building strategic partnerships is one of the best growth hacks for startups. Rather than relying solely on your own audience, you can rapidly accelerate your presence, while simultaneously developing strong relationships that can pay dividends in the long run. Here's a real-life example of what this looks like:
Supercluster is "an online hub of captivating stories that touch on the side of space exploration." And part of their business model is running an e-commerce store with really cool space exploration products. As I'm writing this, they have an audience of 22.6k Instagram followers, which is modest but respectable. However, they formed a valuable partnership with Dropbox, who currently has 46.1k Instagram followers, a massive 4 million followers on Twitter, and plenty of clout in general.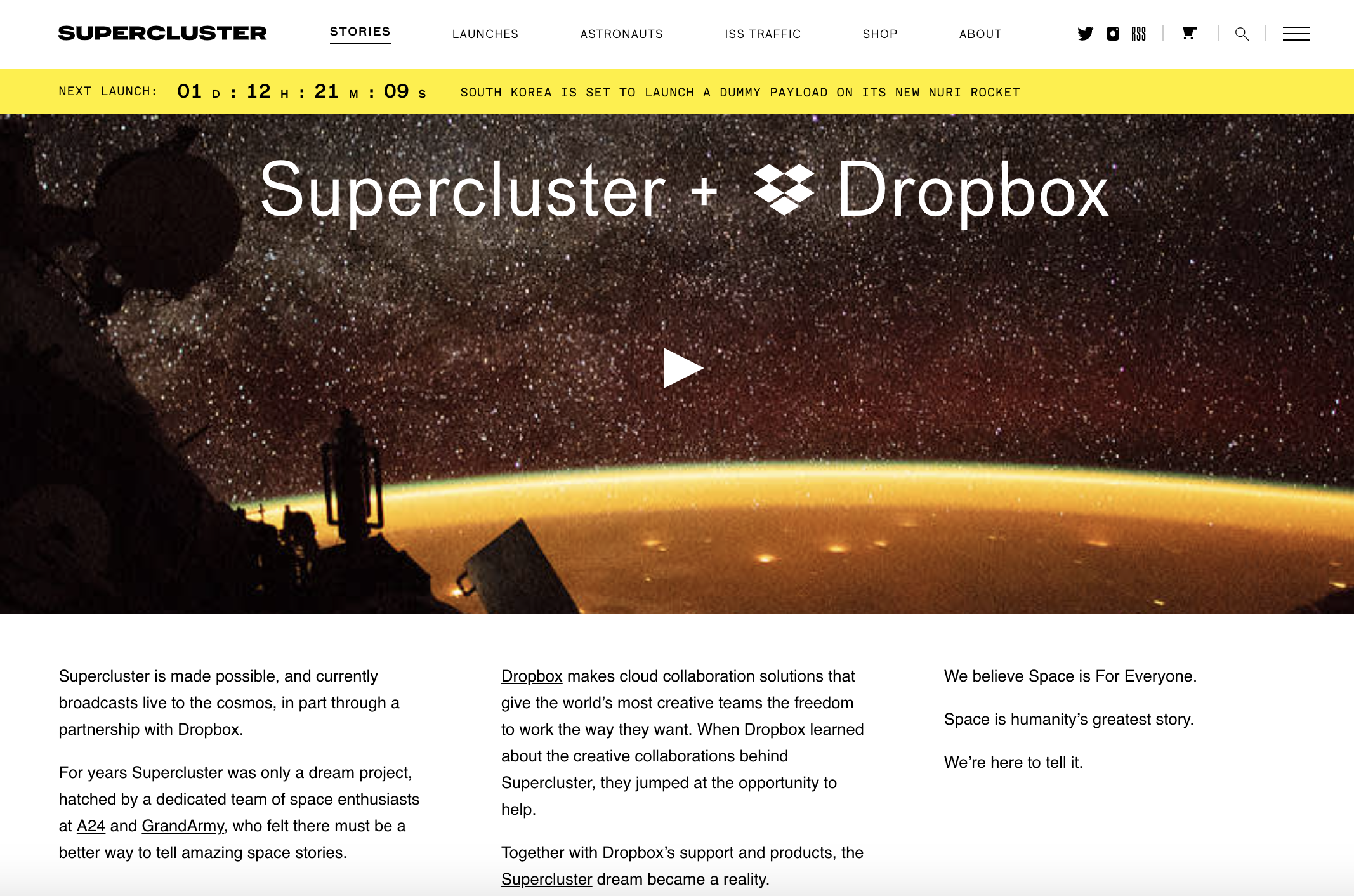 The two brands joined creative forces where Supercluster used Dropbox's cloud solutions, and Dropbox had no problem giving Supercluster mentions on their social media, including this Instagram post.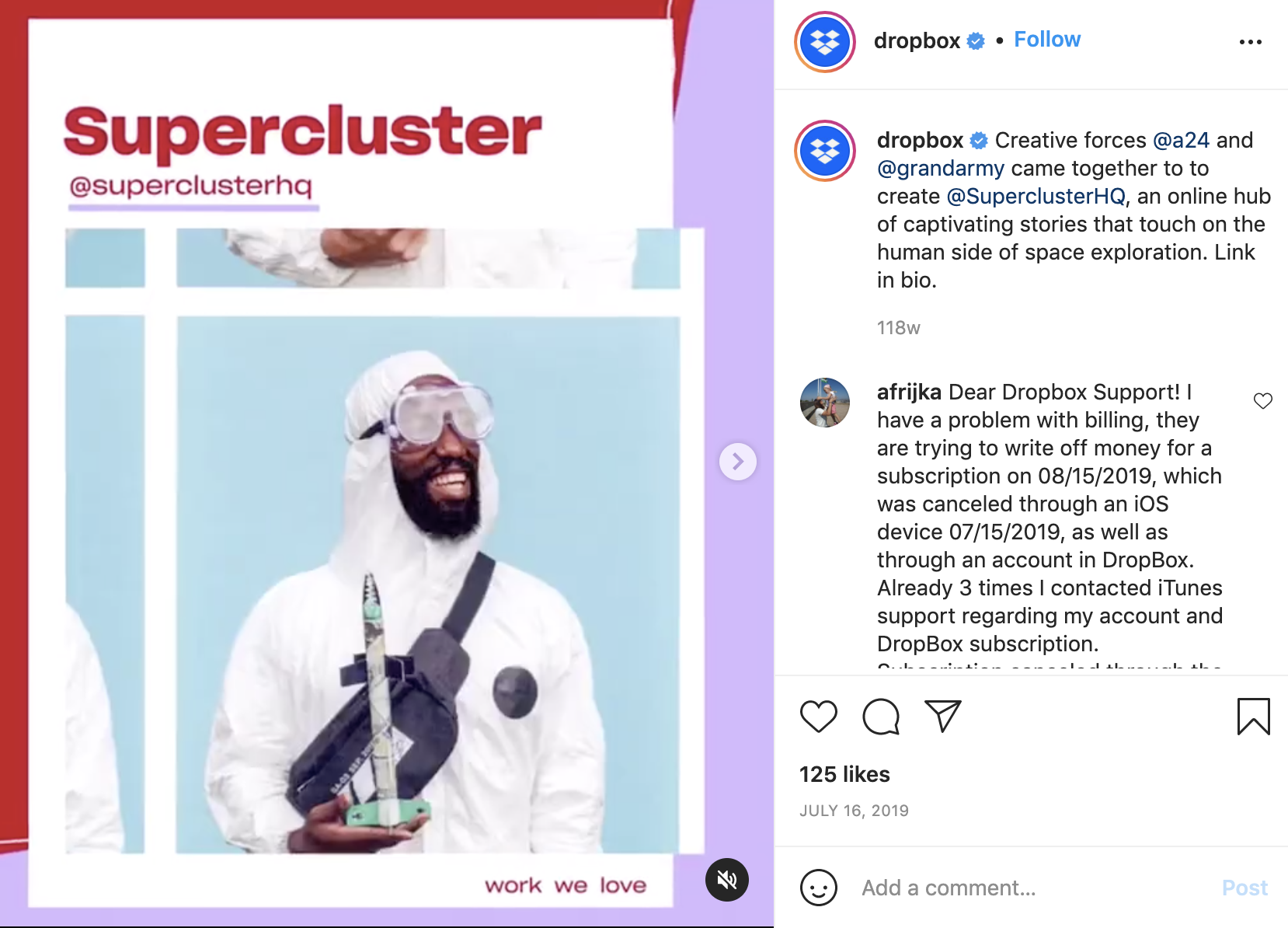 This allowed Supercluster to quickly grow their audience, bring in a flood of new customers, and dramatically boost their brand equity. The lesson here is to be on the lookout for partnership opportunities and come up with creative ways to promote one another. Studies have even found that strategic partnerships generate more revenue than paid search, with an average of 18% of revenue coming from paid search and 28% coming from high-maturity partnerships.
Strategic partnerships generate more revenue than paid search, with an average of 18% of revenue coming from paid search and 28% coming from high-maturity partnerships.
Click To Tweet
Winning with Growth Marketing Strategies
By combining experimentation, innovation, and iteration, growth marketing strategies have the potential to take your business to unimaginable heights in just a short period of time with maximum ROI. It boils down to implementing the right techniques and using your creativity to propel your brand ahead of the competition.
If you're looking for expert leadership for your growth marketing campaign, consider partnering with a fractional CMO like grwth.co. You get C-level leadership to rapidly grow your business, while building an internal culture of continuous learning and improvement.