B2B SaaS has experienced massive growth in recent years. As of late 2021, a staggering 99% of companies used at least one SaaS product, and the market is growing by 18% each year. Further, there's a trend where more and more companies are relying upon B2B SaaS for a growing percentage of their operations. In fact, 86% say they expect it to handle at least 80% of their software needs after 2022.
While this presents a huge opportunity for B2B SaaS companies, it's a double-edged sword because it also means there's fierce competition. To help you stay at the top of your industry, we'll identify five specific factors that contribute to B2B SaaS success and look at real-life examples of companies using these techniques. That way you can mimic their formula and use it as a template to position your brand for success.
1. Shopify – Insane Integrations and Complete Personalization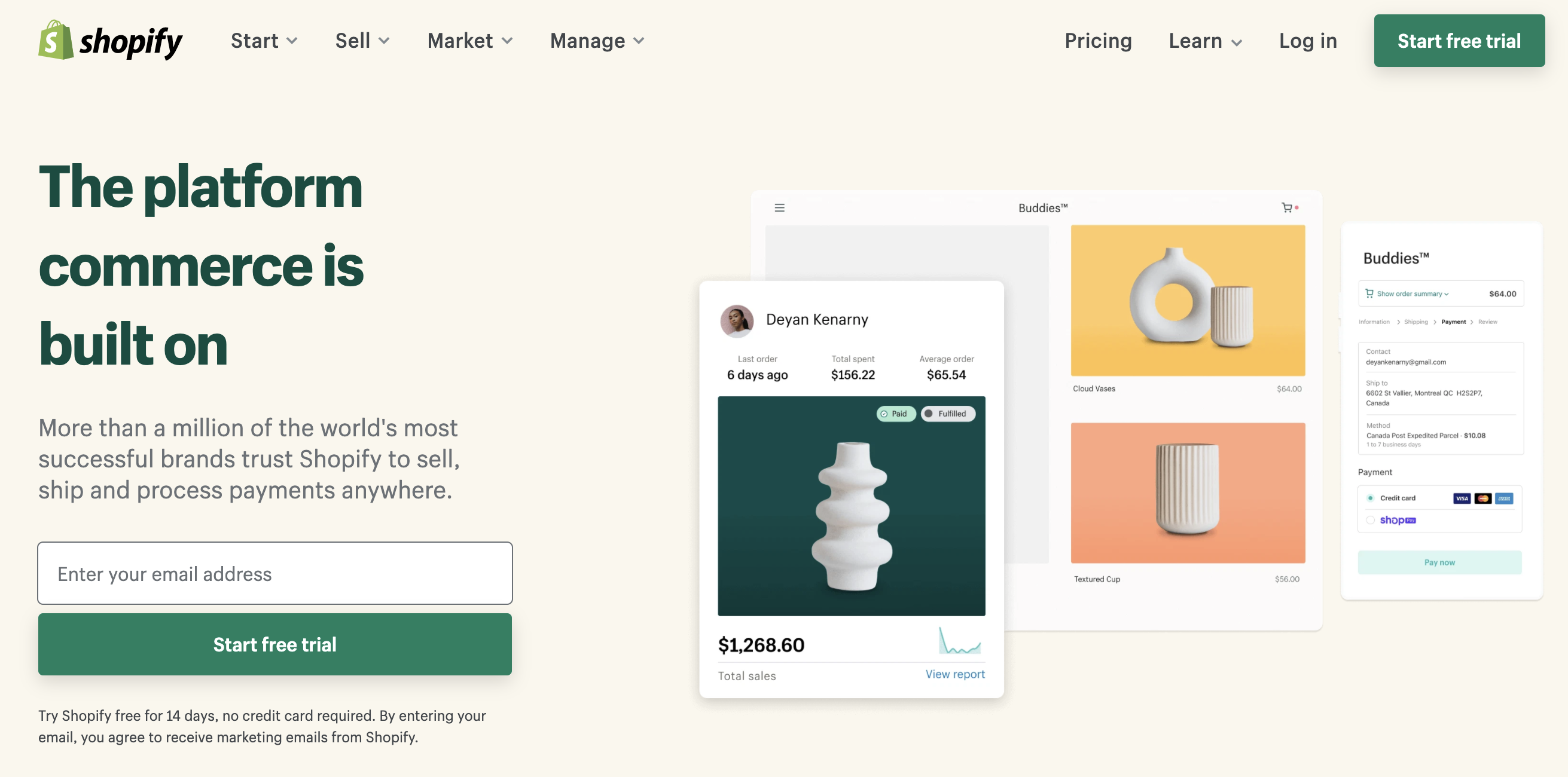 One of the most basic yet essential parts of running a modern business is having a professional website. While there's no lack of options for e-commerce platforms, Shopify has become the clear leader. According to recent data, they have nearly a third (31%) of the total market share, with their next closest competitor, WooCommerce, owning just 23%.
Shopify is the go-to e-commerce platform for many businesses for several reasons, including their simplicity, high-caliber aesthetics, and ability to cater to brands in nearly all industries. But when you look at what's really put them at the head of the pack, it boils down to two main things — their ridiculous number of integrations and unwavering focus on personalization.
As of this moment, there are 3,759 different apps users can connect to in the Shopify app store, spanning:
Marketing
Conversion optimization
Store design
Store management
Order fulfillment
Customer service
Sourcing products
Shipping and delivery
Merchandising
Users can find literally any integration they want, install the app, and start using it right away to fully optimize their e-commerce site. It's all very seamless and user-friendly.
And when it comes to personalization, there are no limits to what businesses can do with Shopify. From installing eye-popping pre-built templates to drag-and-drop store building to customizing their product pages, Shopify makes it a cinch. Given the undeniable success of this e-commerce powerhouse, it's clear that creating a B2B product that's heavy on integrations and personalization is big for winning over companies and propelling your brand to the top.
2. Slack – Simple Yet Robust Features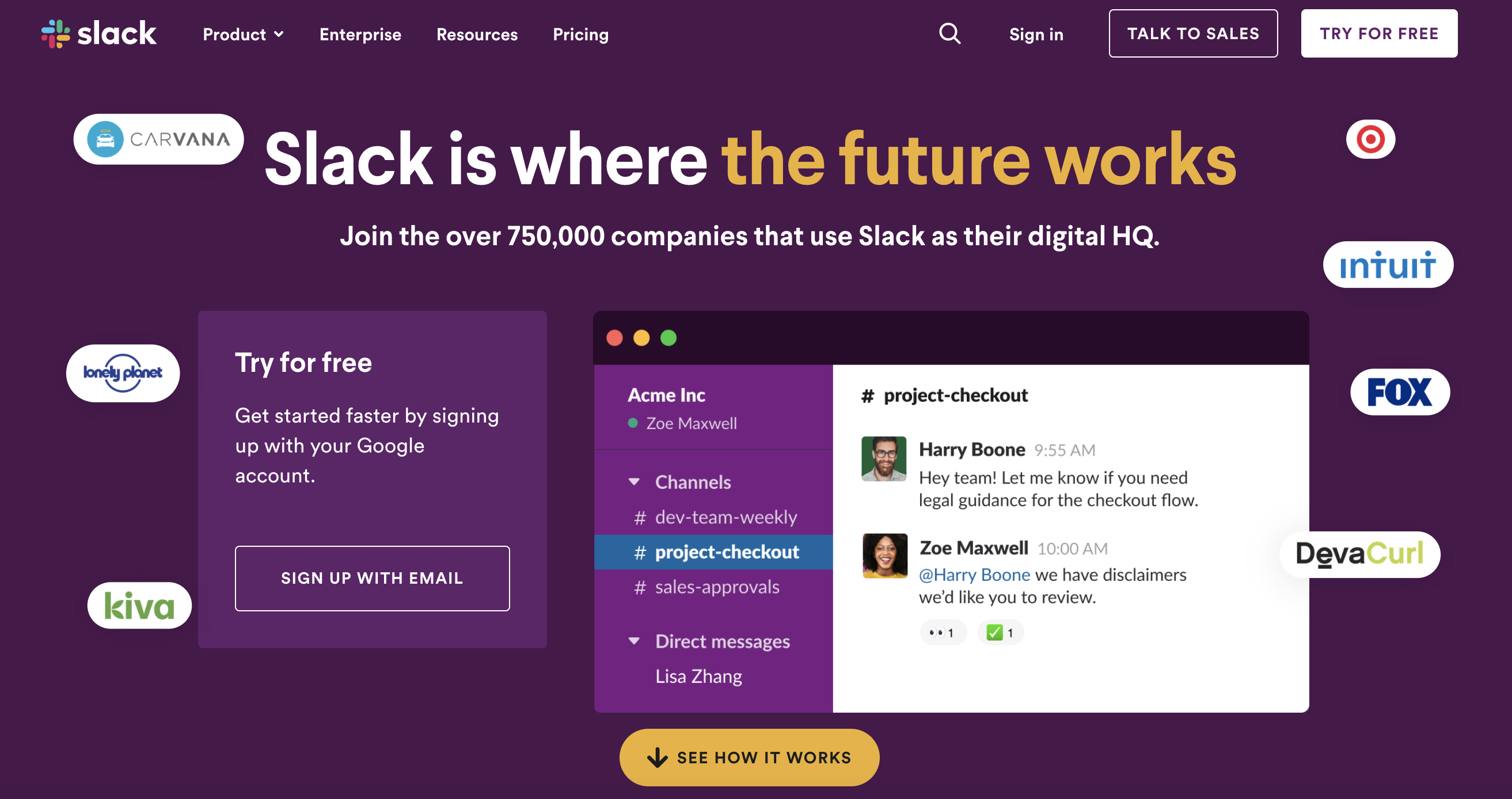 Google "business messaging platforms," and you get over 60 million results. This is a highly saturated industry with new startups being launched every day. But at the top of the totem sits Slack — one of the most successful SaaS companies for team communication and collaboration. Just look at how they grew from 2014 to 2019: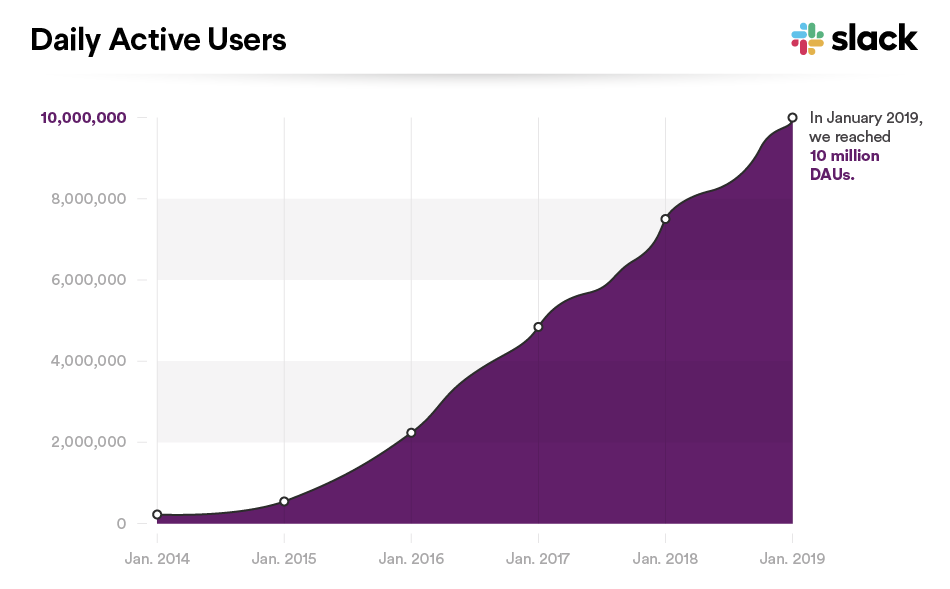 What's the reason behind their success? Like most great B2B SaaS companies, they do a lot of things well. But from our experience, we believe it's largely their ability to offer a ton of amazing features, while keeping their platform extremely simple. Their "channels," for example, allow for streamlined communication with multiple team members around broad topics, communication around narrower topics, and one-one-one conversations.
If you've ever used Slack, you know how intuitive it is and how minimal the learning curve is. And it's hard to stress enough how important that is for winning businesses over, as they don't want to struggle to figure your product out.
To illustrate how robust their features are, here are some highlights of what Slack offers:
Public channels
Private channels
Slack Connect where brands collaborate with other organizations
Messaging
Integration with other platforms like Asana, Google Drive, and Salesforce
Voice and video calls
Screen sharing
Conferencing
Customized GIFs and emojis
What's really impressive is how easy Slack makes it to use all of these features. Their ability to find the sweet spot with features and simplicity has been a major contributor to them becoming one of the more successful SaaS companies and a platform you can learn a lot from.
3.HubSpot – A Wide Variety of Pricing Options and Free Products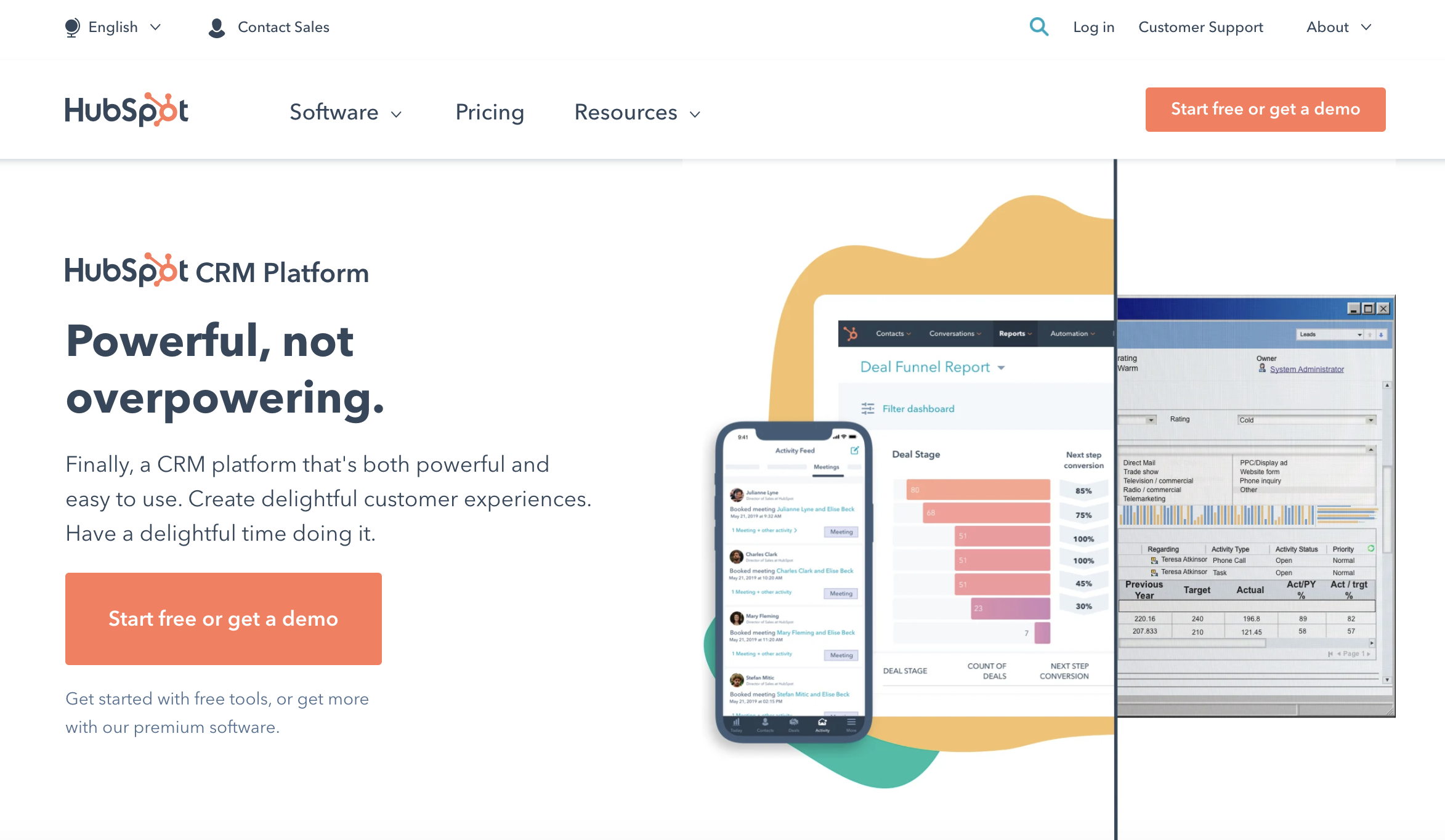 When most people think of CRM, inbound marketing, or sales software, one of the first platforms that comes to mind is HubSpot. And for good reason. They've been an industry standout for years and give companies nearly everything they need to stay on top of sales, marketing, and customer management under one roof.
Among the myriad of things HubSpot does well, their wide variety of pricing options and free products have been the backbone of their success. For instance, they have a "Marketing Hub" with "Starter," "Professional," and "Enterprise" packages where users can choose the perfect solution based on the number of marketing contacts they have. HubSpot also offers "Starter," "Professional," and "Enterprise" packages that can be customized for sales, customer service, CMS, and operations.
As for free tools, they have:
Free marketing tools for building forms, email marketing, and building landing pages
Free sales tools for live chat, basic bots, and quotes
Free service tools for email scheduling, calling, and ticketing
Free operations tools for contact management, data sync, and app marketplace integrations
And that's just the tip of the iceberg. There are plenty of other free tools that can help companies streamline countless aspects of running their business and serve as the ultimate "foot in the door" strategy for generating high-quality leads. Many of which convert to paying customers later on. This goes to show the value of taking a polar opposite to the one-size-fits-all approach, and this is a model today's B2B SaaS companies can learn a lot from.
4. Unbounce – Automation and AI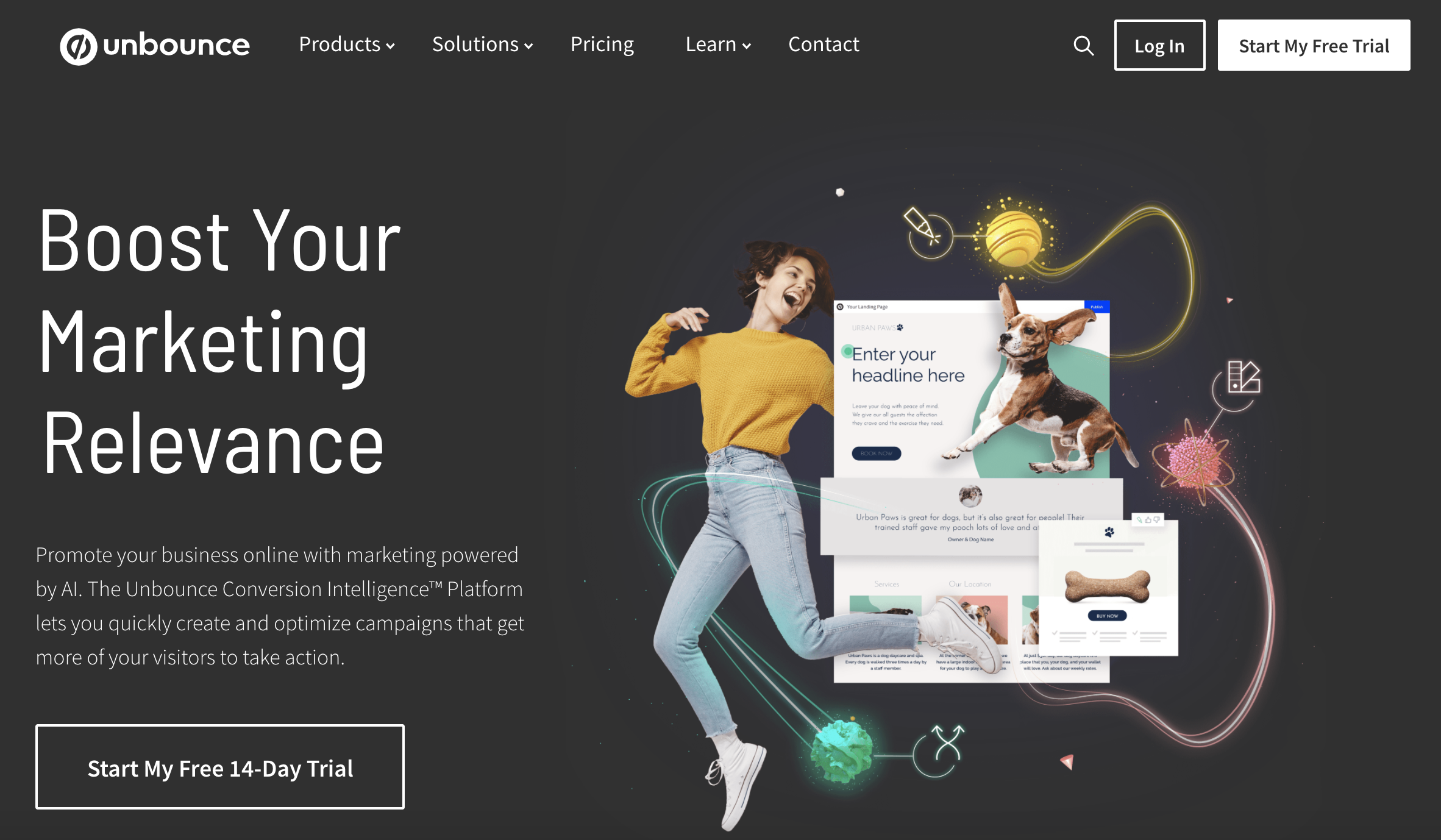 Unbounce is a landing page builder that offers cutting-edge technology that allows businesses to create ultra-high-quality, fully optimized landing pages to boost conversions. A quick glance at their website makes it clear that their UVP is geared around making their users' lives easier through automation and AI.
In their own words, Unbounce offers "smarter marketing (made super simple)." To accomplish this, they have multiple game changing features, including:
Pre-optimized landing pages
A "Smart Builder" that helps users create high-converting, mobile-optimized campaigns quickly and easily
A patented "Conversion Intelligence" platform that uses machine learning to create better campaigns
"Smart Copy" that allows users to "instantly write, remix, and expand on-brand content for everything from landing pages to ads and emails in seconds"
"Smart Traffic" that automatically directs traffic to the optimal landing page to increase the odds of conversions (brands see an average lift of 30%)
In other words, Unbounce takes the heavy lifting out of landing page construction and taps into sophisticated AI technology to help users get serious results. Given that 61% of IT professionals currently use or plan on using IT automation within the next two years, this shows just how potent it can be.
61% of IT professionals currently use or plan on using IT automation within the next two years
Click To Tweet
5. Square – Empowering Businesses of All Sizes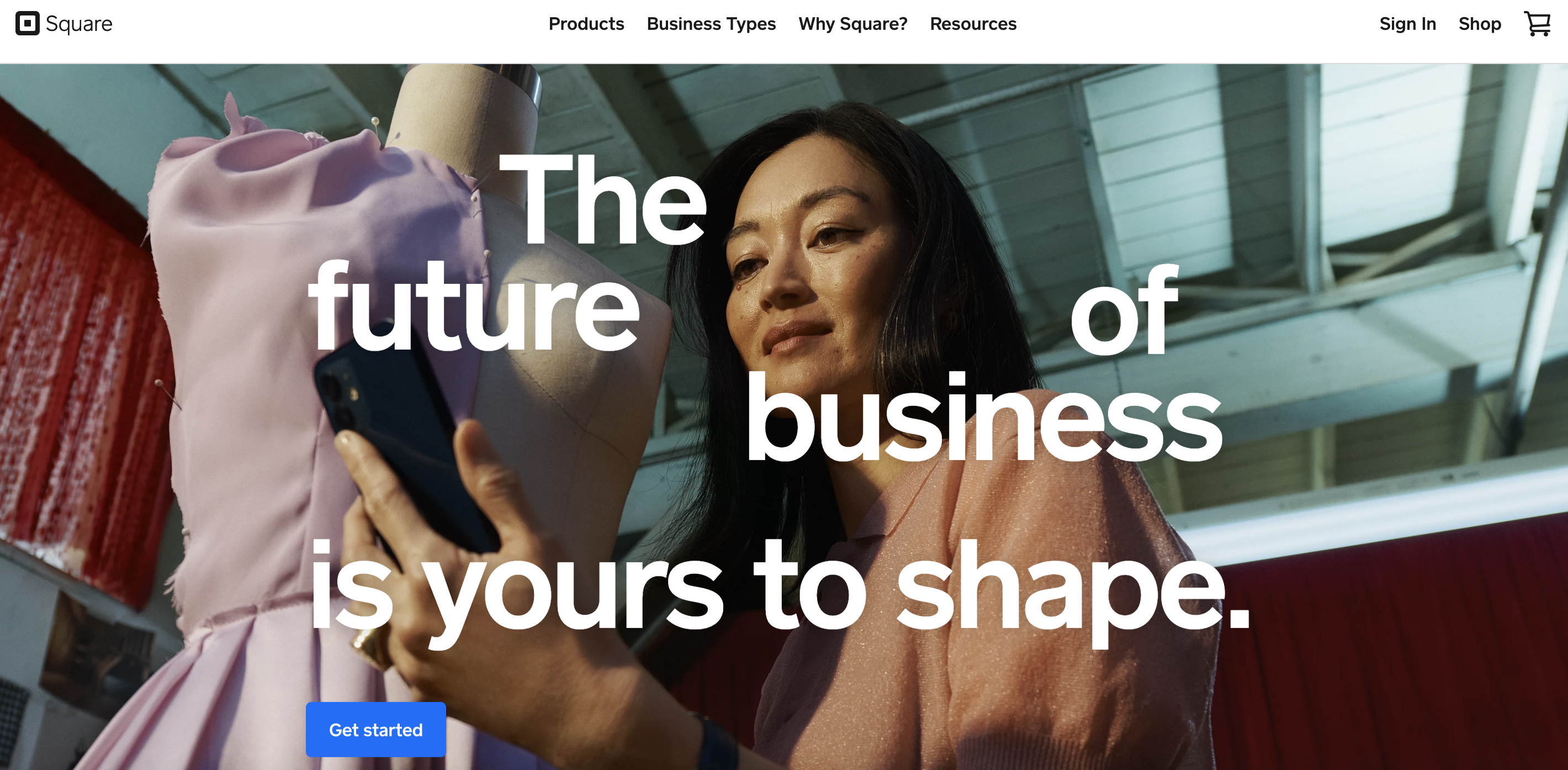 The last of our successful SaaS companies is Square, who has now been around for over a decade. Like other examples mentioned in this post, they're all about simplicity, which is a big reason they're such a popular payment processing solution. Beyond that, their UVP focuses heavily on empowering businesses of all sizes — small, medium, and large. In fact, when visitors check out their "Why Square?" page, that's the first thing they mention: "Helping every size of business succeed."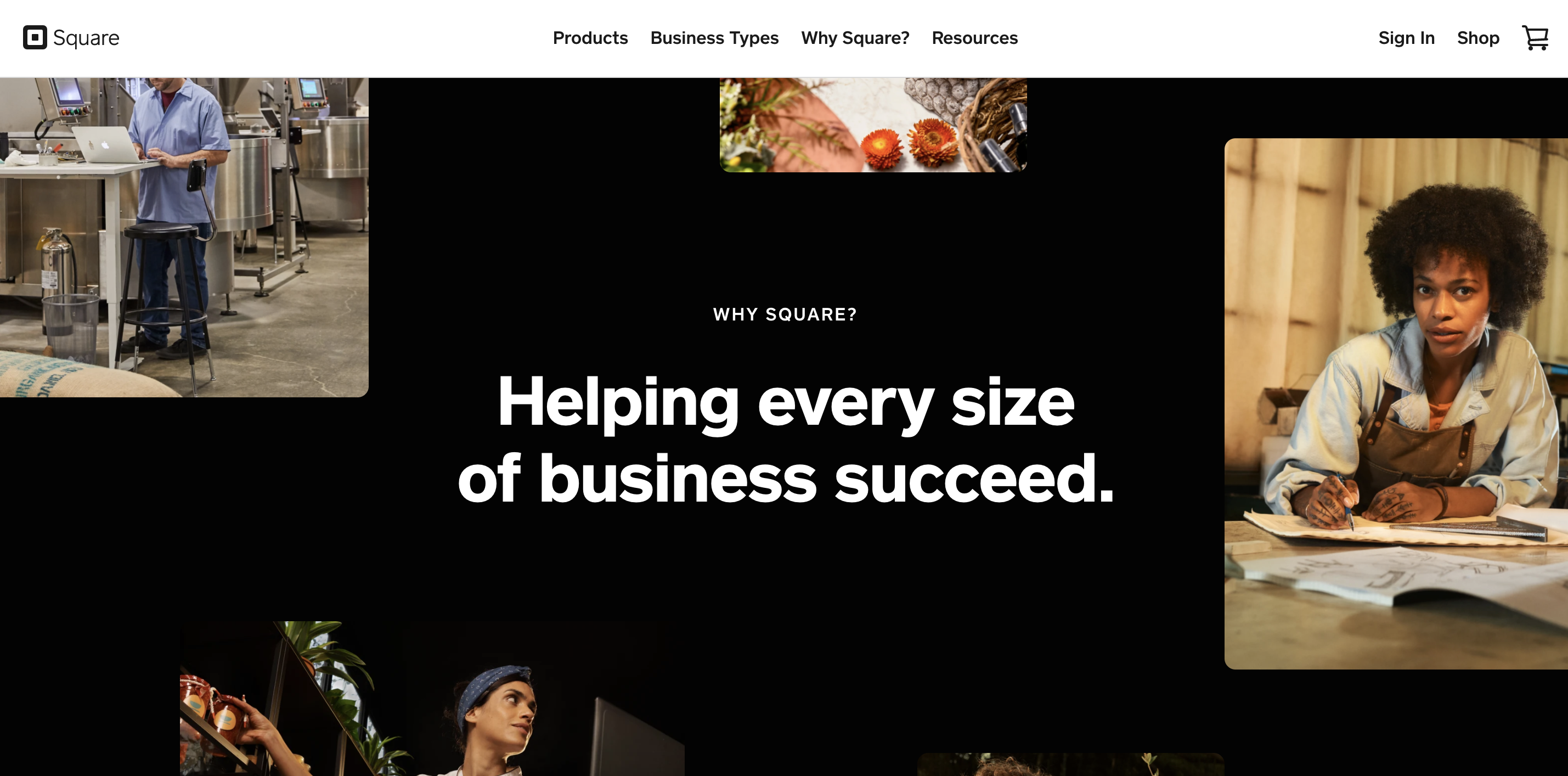 The fact that Square is so customer-centric and committed to helping businesses run more efficiently while offering maximum flexibility has been integral to their success. And this is incredibly appealing to companies that are choosing a payment processor. Having the freedom to select customized solutions at scale is a major selling point and an excellent summary of Square's value proposition.
While some companies will be inherently "niche" by nature, Square is proof that providing comprehensive solutions to meet the needs of a wide range of businesses can still ignite serious growth.
Learning From Today's Top B2B SaaS Companies
It's an incredibly exciting time for B2B SaaS, and the opportunities are truly mind-blowing. That said, it's also more competitive than ever, which means you need to get serious about finding ways to differentiate your brand from others. Learning from the B2B SaaS companies listed above should ensure you walk away with concrete, actionable strategies that you can apply to your business for future success.
Looking for a new type of partner to grow your SaaS company, while instilling a growth culture of continuous learning and improvement? Reach out to grwth.co today.