You're a startup founder in a juggling act, aiming for growth. Ever thought of a Fractional CMO's role in your strategy?
They're part-time, high-level specialists who could be your startup's secret weapon. They'll bring industry experience, unique skills, and a fresh perspective to scale your marketing effortlessly.
Let's delve into why your startup needs a Fractional CMO and how they can drive your success.
Key Takeaways
Fractional CMOs bring a unique marketing skill set to startups and offer cost-effective solutions.
They provide strategic marketing expertise and help startups scale their marketing efforts.
Fractional CMOs have a wealth of industry experience and can provide a fresh perspective on marketing strategies.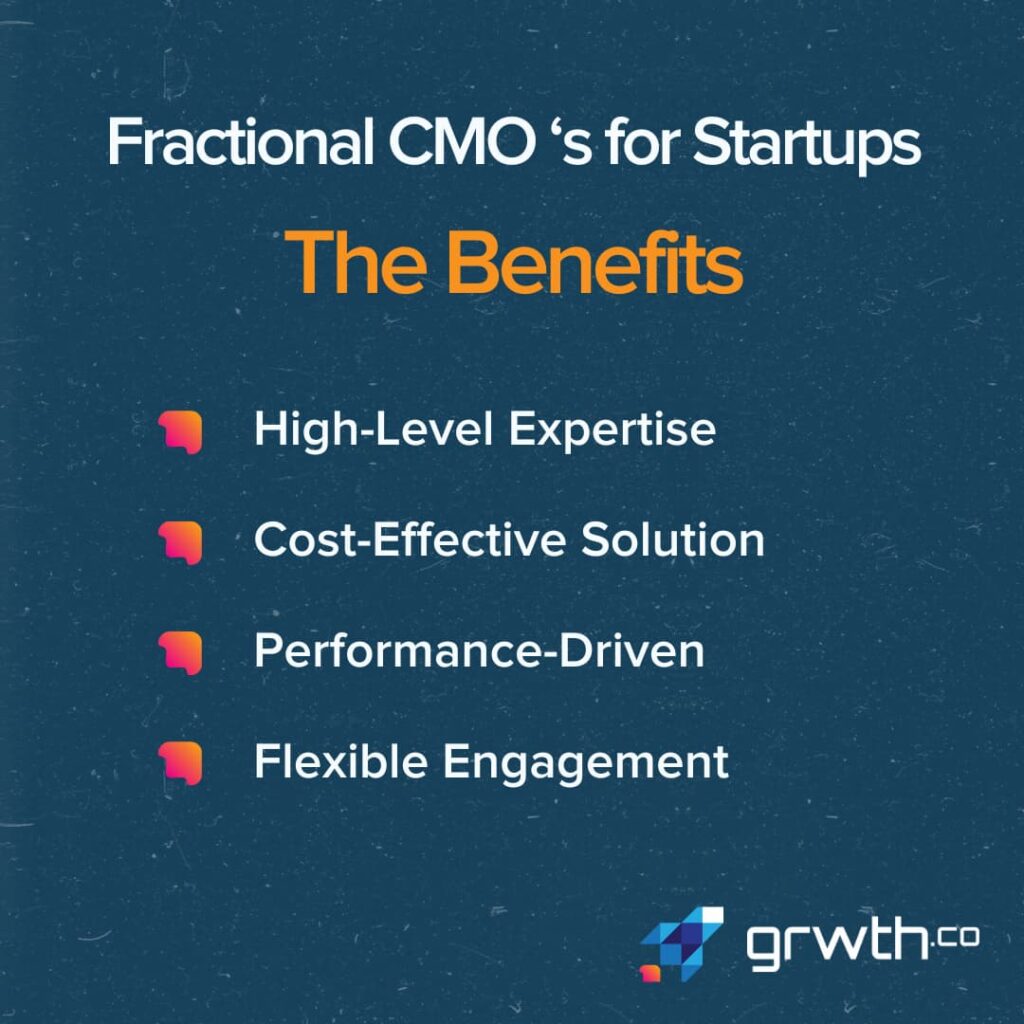 Expertise in Startup Marketing
While you may be an expert in your startup's specific field, you'll quickly find that a fractional CMO brings invaluable marketing expertise that's tailored specifically for startups.
They're proficient in creating startup marketing strategies that navigate market challenges, driving your brand to the forefront.
Their unique know-how allows them to craft agile startup growth strategies, propelling your business from infancy to maturity.
Their marketing expertise for startups is second to none, with a keen understanding of startup dynamics, competitive landscapes, and customer behaviors.
Strategic Guidance and Oversight
Under the strategic guidance and oversight of a fractional CMO, you'll have a clear roadmap for your startup's marketing efforts. With their expertise in strategic planning, they'll help align your marketing activities with your business goals, ensuring every move contributes to your overall growth strategy.
They'll keep a close eye on performance tracking, identifying what works and what doesn't, making sure resources are effectively utilized. Their extensive market analysis will keep you ahead of trends, delivering insights that can steer your startup towards success.
This kind of strategic guidance and oversight is invaluable, providing a sense of direction, boosting efficiency, and fostering growth. Therefore, a fractional CMO isn't just an option, but a necessity for your startup's journey.
Cost-Effective Solution for Limited Budgets
As a startup, you're likely working with a limited budget, and hiring a full-time CMO can be a significant expense that you can't afford. A fractional CMO is a cost-saving measure that allows for resource optimization. They provide the necessary expertise without the hefty price tag, granting you a competitive advantage.
They can help craft a strategy for your market positioning, even with limited resources. Moreover, the scalability potential of a fractional CMO is enormous. As your business grows, they can adapt and expand their services to fit your evolving needs.
A fractional CMO provides strategic and creative expertise at a fraction of the cost, making it a great investment for your startup.
Faster Results and ROI
In just a few short months, you'll start seeing the impact of a Fractional CMO on your startup's bottom line. This impact is driven by their performance driven approach, which focuses on quick wins and maximizing resources.
Their strategic planning and execution allow your business to achieve growth and profitability at a faster pace. The Fractional CMO's role is to ensure your marketing spend is efficient and directly contributes to your bottom line.
Their strategies and actions have a measurable impact on your business, driving tangible gains in customer acquisition, market share, and revenue.
With a Fractional CMO, you're investing in results, not just cross-off checklists of activities. Their marketing approach delivers faster results and a higher return on your investment.
Flexibility and Adaptability to Changing Needs
You'll find that a Fractional CMO can quickly adapt to your startup's evolving needs, offering flexibility that's invaluable in today's ever-changing business landscape. Their agile marketing approach enables them to respond rapidly to shifts in market trends, using market research insights to inform strategy changes. This flexibility and scalability can be a game-changer for your startup.
A Fractional CMO also excels in competitive analysis, helping you stay ahead of industry rivals. They develop customer acquisition strategies that are easily adjustable to meet your startup's growing demands. With a Fractional CMO, you're not just getting a marketing expert, you're gaining a partner who's as adaptable as your entrepreneurial journey requires.
This adaptability ensures your marketing efforts remain relevant and effective, no matter where your startup journey leads.
Need Help Finding a Startup Fractional CMO?
With Grwth.co's fractional CMO's, you're securing more than just marketing. You're gaining a strategic ally. Move beyond scattered tactics and dive into a tailored, data-driven strategy.
Your path to measurable startup success starts today with grwth.co. Let's transform your growth journey together. Schedule an introductory call here!