The SaaS industry is exploding. It's currently growing by 18% each year and 99% of companies are using at least one SaaS solution. This means there's a ton of opportunity, but at the same time, there's a lot of competition. For most new startups to thrive, they need CMO-level leadership.
While going the traditional route of hiring an in-house CMO isn't always realistic for young companies, hiring a SaaS fractional CMO often is. In this post, we'll discuss exactly what these growth partners are, the services they provide, and how they can help your brand succeed in today's competitive landscape.
What is a SaaS Fractional CMO?
It's an executive that performs all the same duties as a regular full-time chief marketing officer (CMO). The key difference is that they're outsourced and only work part-time or even quarter-time. You can think of it as CMO-as-a-Service where a professional is contracted to serve the exact needs of your company but nothing more.
Unlike a traditional CMO who works in-house full-time and, as a result, requires a full-time salary with benefits, a SaaS fractional CMO is much more flexible and costs significantly less. In turn, this setup allows you to right-size your marketing for a reasonable price without sacrificing quality. At the end of the day, you get the same senior leadership of a standard CMO without the steep price tag or any major commitments.
This makes a Fractional CMO ideal for new SaaS startups that don't have a huge budget and don't necessarily need a full-time executive.
What Are Their Core Services?
These professionals take a very holistic marketing approach and are involved in all major aspects of the process. From developing an initial strategy to execution to making ongoing iterations based on data, a SaaS fractional CMO has their hand in everything. While the exact services may vary somewhat depending on the specific partner you work with, there are several core services you'll find across the board.
One is a current market assessment where they identify:
Your main demographic
The different segments of your demographic
Buying behaviors
The best channels for reaching them
Primary competitors
Your competitors' strengths and weaknesses
How to position your SaaS company as the best option
They'll also perform a team audit to make sure you've got the right talent to get the results you need. If, for example, the current configuration isn't conducive to running a high-level marketing campaign, they'll make suggestions and assist you with recruiting and training.
Another key service is developing a winning customer acquisition strategy where they focus on conversion funnel optimization to turn visitors to leads and leads to customers with the least amount of friction. If you're a brand new SaaS startup, a fractional CMO will build this from the ground up. Or, if you've already developed one, they'll help you fine-tune it to maximize its effectiveness.
There's also content marketing strategy for SaaS where they pinpoint the optimal forms of content to create to reach your audience, such as blogs, lead magnets, videos, webinars, and so on. From there, they'll figure out how to produce this content most efficiently for maximum ROI.
And as we touched on before, a SaaS fractional CMO will be in charge of data transformation where they use up-to-date data to continually improve decision making and refine your overall marketing campaign. Given that data-driven organizations are 23 times more likely to acquire customers and 19 times more profitable, this is critical for long-term success.
You can find a more broad overview of the core services of a SaaS fractional CMO in this table below.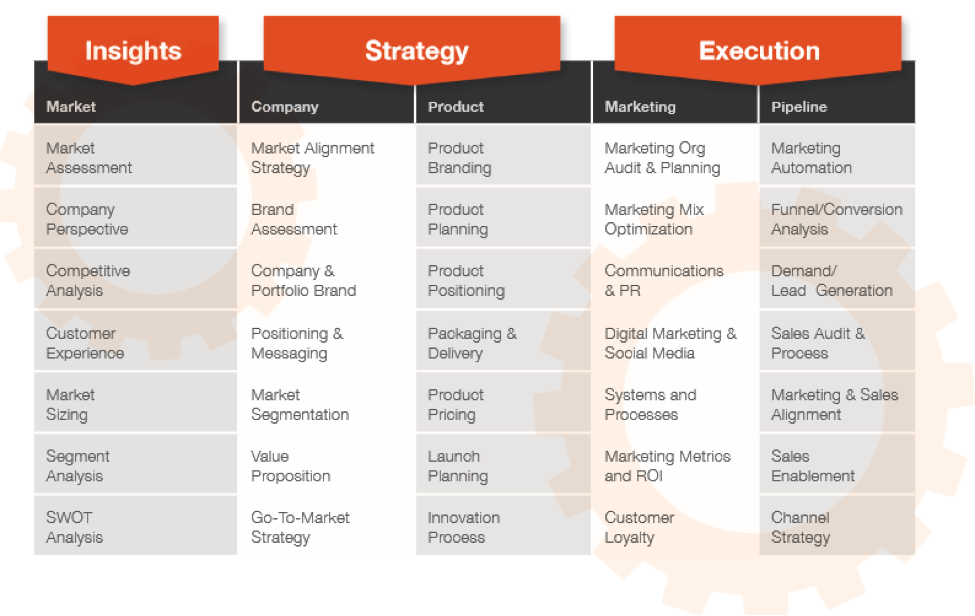 How a SaaS Fractional CMO Differs from a Traditional Marketing Agency
There are two key differences. First, the volume of clients is much lower for a SaaS fractional CMO when compared to a traditional marketing agency. On average, an agency accounts person oversees as many as 30 accounts, which means they only have time to meet with you once a month. A SaaS fractional CMO, on the other hand, serves a max of just four clients, so they can meet with you weekly and even attend team meetings if you'd like.
Because a SaaS fractional CMO has much more bandwidth to devote to each client, they're able to give the client far more attention than what you would typically see with a traditional marketing agency. And that's especially important for new startups who are just finding their footing and are up against fierce competition.
The other main difference has to do with brand messaging. A common complaint for many SaaS companies that hire traditional marketing agencies is that their brand message gets diluted and lost in the shuffle. These agencies, after all, are working with dozens of brands and don't always have the time to truly understand a business. But with a SaaS fractional CMO, they'll work closely with you to ensure your marketing campaign aligns perfectly with your brand messaging. In turn, you're able to develop a crystal clear unique value proposition and hit the right notes with your target audience.
Why a SaaS Fractional CMO is Perfect for New Startups
First off, these professionals bring in-depth knowledge and experience that are invaluable to SaaS startups. Going this route gives you access to a high-level executive that understands how to build a marketing campaign from the ground up. So if you're not sure how to get started or simply don't have the time or resources to handle marketing yourself, a SaaS fractional CMO will help you every step of the way.
Next, they have hyper-relevant industry experience. As you're probably well aware, the SaaS buyer's journey is unique and requires a specific approach that won't always work in all marketing campaigns. Therefore, a generic one-size-fits-all approach like you often get with traditional marketing agencies just won't cut it. But with a fractional CMO, you bring on a professional that knows the SaaS buyer's journey inside and out and can develop a game plan that's tailor-made for your digital product, your demographic, and industry needs.
Third, there's speed. If you've ever attempted to launch a SaaS marketing campaign from scratch, you know how involved it is. When you're handling everything yourself or outsourcing to a traditional marketing agency, it can be a while before you get results. But because of the holistic approach a SaaS fractional CMO takes, their emphasis on strategy, and their level of dedication, you can see a tangible impact in the shortest time possible while upholding high standards.
Finally, there's affordability. Many new startups simply don't have the budget to pay the salary of a full-time, in-house marketing CMO. As of November 2021, the average salary of a full-time CMO was $176,216. And when you add benefits, insurance, and so on, that number can be even higher, reaching as much as $342,000 — a number that's just not realistic for many new SaaS startups.

When we talk about a fractional CMO's salary, you get the same skillset and executive-level leadership but for only a fraction of the cost. Further, the right-sizing that comes along with this arrangement offers added flexibility where startups can gradually scale as needed. So when you put it all together, it's easy to see why this is such a good fit for so many new SaaS startups.
Accelerating the Growth of Your Company
To truly thrive in today's ultra-competitive SaaS industry, it's almost a necessity to have a CMO on your team. But as we've discussed, hiring a full-time, in-house CMO isn't always possible for new startups. That's why a growing number of companies are turning to a SaaS fractional CMO and seeing amazing results with an exceptional ROI.
To learn more about how a fractional CMO can help your new SaaS startup grow while building an internal culture of learning and improvement, reach out to Grwth.co today.